Before Seth Rubin left North Carolina for Denver in 1999, he had zero experience in the food industry. He bounced around a few career paths before finding his calling in 2010, when he opened the popular Rise & Shine Biscuit Kitchen. Now, the company slings North Carolina-themed biscuits by the hundreds in its two locations in the city, the nearest at Sloan's Lake, 5126 W. 29th Ave.
The biscuit handhelds are named after cities in North Carolina, such as "the Boone," "the Asheville" and, my favorite, "the Chapel Hill" (a fried chicken biscuit sandwich, try it with an over-easy egg), among others.
Though he left his hometown of Chapel Hill, he brought all his childhood sports fandom with him, and roots for the North Carolina Tar Heels with ferocity in the Mile High City. The Heels just completed a historic and unlikely run to the National Championship game, in which first-year head coach Hubert Davis knocked off UNC's longtime legendary adversary Mike Krzyzewski (Coach K) in the Final Four, ending his career in the most bragging-rights way in college basketball history.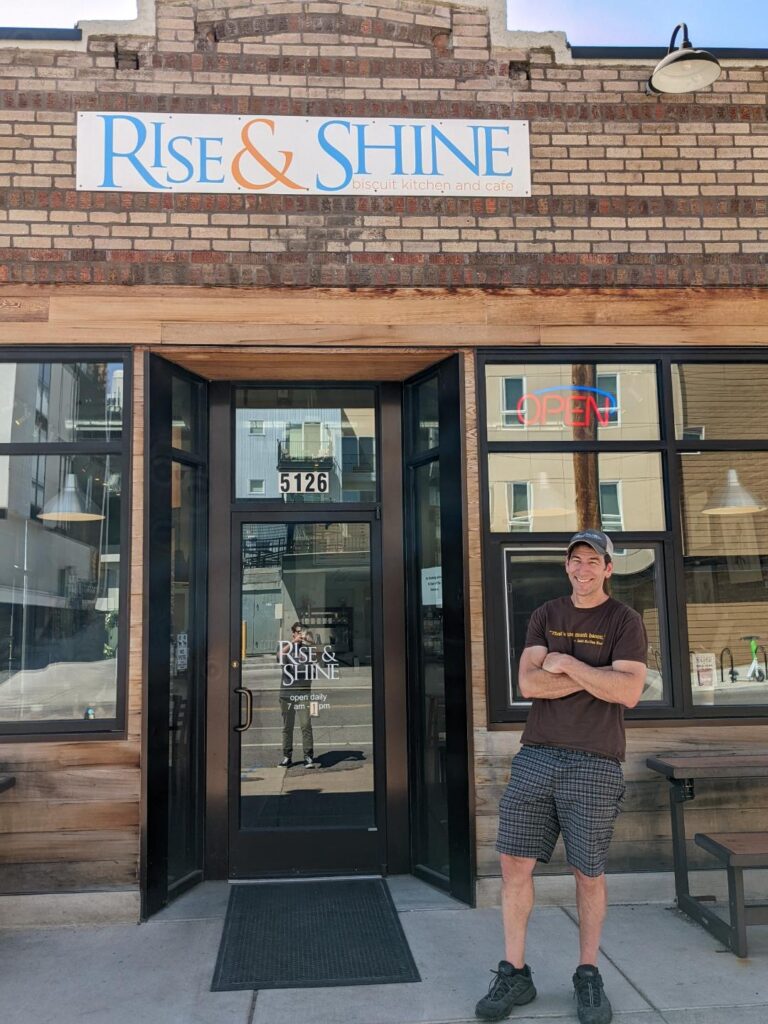 Though the Tar Heels ultimately lost to Kansas in the championship, Rubin said he's still coming down from an electrifying rollercoaster of a season. As a fellow college basketball lunatic and Duke hater, I sat down with Rubin to discuss.
So you've always been a diehard UNC Tar Heels fan, huh?
My whole life. I was born in Durham, N.C., in Watts Hospital, which is now the UNC School of Science & Math. Dad worked at Carolina, at the business school as a professor. Mom worked at Duke. And fortunately, neither of them cared about sports. I remember going to games in the old stadium, Carmichael Arena, looking around a concrete column and seeing Michael Jordan off in the distance playing back in '82.
When you lost Roy Williams to retirement last year, a hall-of-fame coach who was at Carolina since the Michael Jordan days, and hired Hubert Davis, what was your opinion on that? I remember folks being not too thrilled about that hire. 
Having lived through a little bit of it in the past … When Dean Smith left, Bill Guthridge took over. And he was alright, did okay for a year. Coincidentally he was a neighbor around the corner from us growing up. But he did good for a year or two maybe, and then they brought in Matt Doherty, and it was thumbs down all the way. Moderate success for the program, but no real guidance. So it was kind of a similar concern. Like, what are Hubert Davis' credentials?
What did you like about Hubert?
He spent a lot of time in the NBA and did that stint with ESPN. Super compelling to listen to, knows basketball, but will he be able to reach the kids, and will the kids listen? Early season, we kind of shrugged our shoulders and said, 'Well, it's a building year.' But there was always something super compelling about what he was saying in press conferences and his messages to not only the press, but the players. The right kind of 'coach-speak.' You could kind of tell Roy Williams was done with it. There were a lot of press conferences after terrible games where he wasn't really adding anything to the general mood and spirit of the team. Saying we stunk was not very good, no matter how many dadgums you throw in there. So it was kind of nice to hear what Hubert Davis had to say. It was very uplifting and motivational. You could tell he cared about the game and kids and their experience, not just about winning.
You got to send Coach K off twice with Carolina losses, one of them in the Final Four. How do you describe what that does for your confidence in Hubert Davis and the future of the program? How sweet was that?
I almost didn't want to watch the second Carolina-Duke game during the regular season at Duke. But with all the hoopla and pomp and circumstance about Coach K's final game, and just the thought of someone paying $15,000 to see that – I wanted to see an upset. That win was really exciting, and it also kind of gave the impression they could do something in the last part of the season. Having a team come together like that makes it super fun as a fan, and also makes it seem like they've got a coach who has the ability to get the best out of people. 
So Coach K announces this "farewell tour" and every night of the season is an annoying emotional send-off, whereas Roy Williams quietly retired after the season. What does that say about the two programs, in your opinion?
Yeah, who does that? I'll just throw this out there: public school, private school. One is the, I would say, overall favorite of the overwhelming majority of the state. There are far more Carolina fans in North Carolina than there are Duke fans. I think there are more N.C. State fans than there are Duke fans. There might even be more ECU fans. I think the entire history of Duke kind of shades my impression of the program. James Buchanan Duke tried to buy Princeton. They said no. He's like alright I'm going to build it myself in Durham, la tee da. I just think the overall attitude feels less 'working man's team' than Carolina and the other teams in the ACC. I've never had any love for Duke. The feeling grew when Coach K started putting together really great teams. All respect out there, great coach. Not a fan.
After this season, have you won the rivalry so far?
I guess there's a 'so far' for every season. Every new season it starts anew. There's always that little feeling of dread and pit in the stomach before Carolina-Duke, and it honestly doesn't matter what the sport is. I think that rivalry is always super strong. We got 'em this year. We'll see what happens next year.
Beating Coach K in the Final Four, does that relieve most, if not all, of the pain of a National Championship loss?
It's bittersweet, because I had no expectations that this Carolina team would get there. It was fascinating to watch, and thrilling to watch. A win against Duke always means bragging rights. All appropriate respect aside, beating a Coach K team is satisfying, seeing the guy lose with arguably more talented teams.
How do you temper expectations for UNC going forward? Does this set a new standard for immediate expectations, or have those expectations always been there?
One data point does not a trend make. Again, it was a great end to the season and Hubert Davis showed he can inspire players to be tough, resilient, and driven. Time will tell and I can only hope for strong Tar Heels teams and good, consistent play in the future.
Coming to a city and state where college basketball is fourth or fifth, if that, in the sports fandom hierarchy, what would you say makes college basketball so great? What's your pitch to Coloradans about the sport?
I think it sells itself with all of the excitement, drama and intrigue. Of course I grew up in an area that was college team-rich, packed with great programs and rabid fans. We didn't have any distractions of pro sports teams so college sports drew all the attention.