It's been more than 20 years since Oscar Fonseca and James Vogel built their legacies on the mat for Jefferson Junior/Senior High School (JHS), but they haven't stopped contributing to the program's glory for many years. Both returned to their alma mater to coach in 2006, and have trailblazed the program into perennial success ever since.
Vogel, a 1996 grad, was a three-time state qualifier as a wrestler for the Saints, while Fonseca, a 1998 grad, was a one-time qualifier. Prior to their arrival as coaches, Jefferson had just three state medals and approximately 30 qualifiers in wrestling. Since the duo took over, they've notched more than 200 dual victories, averaging around 14 per season. The two started off slow, going 0-20 in the first season.
Finally in 2008 the team broke through with its first state qualifier. Plus, 2013 saw the first-ever state champion in Aaron Cisneros, who is now an assistant on the duo's coaching staff as well, and happens to be Fonseca's stepson. 
Oscar and James went into the 2021-2022 season with five athletes wrestling at the college level, and going into the national tournament two are ranked nationally – Marissa Gallegos, 2nd, and Cayden Condit, 5th.
In the duo's tenure, they've produced 30-plus medalists in the state tournament and 12 individual state champions. Most recently, the Saints finished third as a team in the 2022 CHSAA 3A State Championships with a team score of 94.5. There were five wrestlers in the finals, going 2-3 as an end result. Below is a breakdown of the wrestlers' performances in the tournament, according to the CHSAA website.
Boys:
• 106 – Samuel Rosales (36-7) placed 2nd and scored 20.0 team points.
• 113 – Daniel Soto (24-4) placed 1st and scored 28.0 team points.
• 126 – Angelo Lozado (41-4) placed 2nd and scored 22.0 team points.
• 132 – Jose Campos (41-11) placed 6th and scored 9.0 team points.
• 152 – Silas Thompson (40-8) placed 5th and scored 12.5 team points.
• 182 – Valentino Duran (23-9) place is unknown and scored 0.0 team points.
• 220 – Hector Hernandez (19-10) place is unknown and scored 3.0 team points.
Girls:
• 100 – Victoria Semintal (14-18) place is unknown and scored 0.0 team points.
• 105 – Alicia Soto (30-12) place is unknown and scored 4.0 team points.
• 111 – Shayla Gallegos (33-2) placed 2nd and scored 20.0 team points.
• 136 – Alina Antillon (41-0) placed 1st and scored 30.0 team points.
"All of those facts are fun, but the real story is how much they care about the well-being of the students," said Chris Christian, head women's wrestling coach. "Both Oscar and James would trade every win if it meant they helped turn just one more kid into a successful adult."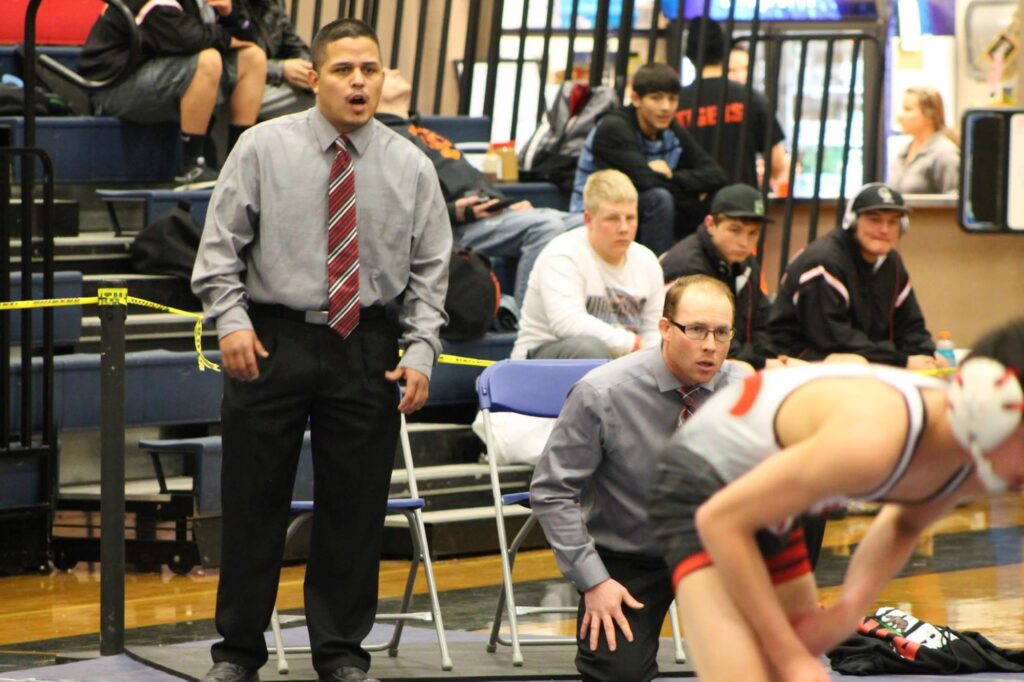 Q&A with Coach Oscar Fonseca
Why did you and Coach Vogel come back to Jefferson originally?
It's just been our community. This is where we're from. I love being here, so I guess it's just normal for me to be here.
When you look at the state of the program now versus when you wrestled, how do you see it?
I didn't start wrestling until my sophomore year in high school. I just put in a lot of work and ended up wrestling in college. So I think the difference is we get out to big time tournaments, and we're giving an experience to the kids that I didn't know was out there (when I wrestled). Once I got out and realized what it takes to compete at a high level, I brought it back into our room and that's why I think our kids have done so well.
How would you say the sport itself has changed since you wrestled?
Wrestling is the same, and it's been the same for hundreds of years. The same stuff works, you just have to adjust to new fads going on. It changes, but it changes in fads. Whatever is popular at the time.
What about Jefferson is so special?
It's such a great community. It's such a small atmosphere: the teachers know everyone, our parents as well. It's very special because we get a lot of community support with the wrestling piece. It just feels like home. It's not that hard to get ahold of people and our kids love it there.
How does your mindset change going into state as a wrestler versus a coach?
Jefferson never had a state championship in wrestling until we took over. We had one kid in the finals in 19-I-can't-remember-the-year, a long time ago. We've now had 20 (state finalists). I didn't have the biggest accolades, but I learned how to do things. Now we have 12 state champions. The first state champion was my stepson, and they just keep carrying on the tradition. Like I said before, it's our community and we've got to keep it going.
What values do you teach your student athletes off the mat?
When I first started, I was ready to fire myself because I cared about winning. We started out, like, 0-20. Then I started thinking, it's about effort and attitude. The winning and losing will take care of itself. We're confident about our technique and what we do and what we teach, and the winning happened. But, it's the effort and attitude of the kids. We just have to care about ourselves and those mindsets.