Edgewater 2040 ~ Planning Our Future Together is the new name of our 2023 Comprehensive Plan. The name captures the important task we have in front of us: to design a community road map that empowers Edgewater to build a more vibrant community.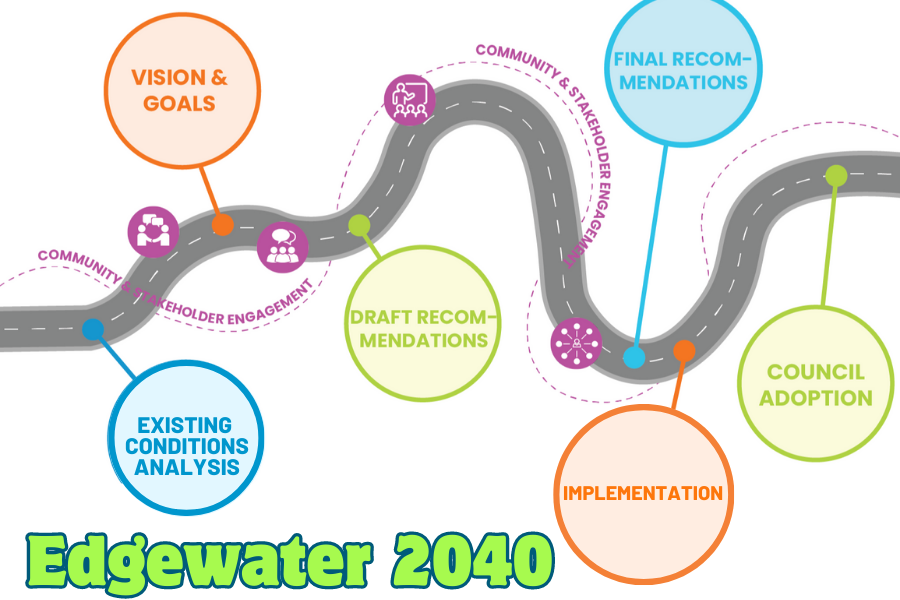 The next phase of this all-encompassing comprehensive plan process will include in-depth engagement with the community to discuss important topics such as affordability, transportation and community character. At the heart of all these issues is land use policy. Land use policy is laws and regulations (such as zoning) that dictate what can be built, where it can be built, and for whom it can be built.
Edgewater was largely developed between the 1940s and 1960s. Like most American suburbs, mid-century land use policy was centered around car use and the prevalence of cheap land. Edgewater in 2023 faces a different reality. Housing prices have tripled in the last 13 years, and we desire a more walkable and sustainable lifestyle. Creating more affordable housing options that cater to the spectrum of community needs, including service workers, will always be challenging for Edgewater because of our lack of vacant land and limited resources to build affordable housing.
Through our traffic calming and sidewalk investments, our community is becoming more pedestrian friendly, but to become less car dependent, we will simply need more services close by. Land use changes that attract more businesses and foot traffic would get us there. Imagine a 25th Avenue that allows more neighborhood cafés, shops and grocers to thrive long term. (I personally miss Frank's Bodega.)
While land use policy can't transform a community overnight, it does allow for meaningful changes to occur over years and decades. Below are a few questions we should ask ourselves as a community:
• Should we allow both housing and commercial uses along Sheridan Avenue?
• Do Accessory Dwelling Units (ADUs) on single-family zoned lots make sense?
• Should we allow for ground-level retail and second-level housing along lower 25th Avenue?
• Should we revisit auto-centric parking minimums and instead focus on managed parking solutions?
Why engage on land use policy now? Due to the housing affordability crisis, the state continues to threaten to take land use control away from Edgewater. We are also in the middle of a once-in-a-decade, long-term planning exercise. And finally, we have an election this fall, in which candidates will be seeking residents' input.
Cities do not stand still. Let's commit to coming together as a community and create a land use vision that will allow Edgewater to be a more sustainable, affordable and connected community in 2040. Give feedback and stay up to date with Edgewater 2040 by heading to www.EnvisionEdgewaterCO.com.
Contact Edgewater Mayor John Beltrone at jbeltrone@edgewaterco.com or 720-643-6077.