Methodical. Intentional. Thoughtful.
It's both how Chris Mora speaks and how he welds. He'd much sooner lapse into minutes-long silence than say something he doesn't mean. And he'll sure as hell never commit a weld that is messy, rushed or anything short of beautiful.
Mora is a metalworker and artist. He makes robots, primarily, along with any other fabrication projects clients may need. The robots are playful and highly technical – some can fold up into his pocket, while a new project he's working for Colorado Plus Brew Pub in Wheat Ridge will stand at 16 feet, 5 inches tall.
Though he is now a skilled welder, the robots actually came first. Mora painted robots for years, until the 2-dimensionality of them was no longer satisfying.
"All these robots I was painting, yeah they're paintings of robots, but they're also paintings of mechanisms and geometry, a bunch of working little parts that I was drawing two-dimensionally, and then painting," Mora said. "I realized one evening as a 17-year-old that, I looked at my work, and I was like, 'Oh, I don't like two-dimensional art.'"
When he began to weld, a few interesting things happened. First, he unintentionally landed on a ratio of 1 to 6 for scaling the robots' heads to their bodies. The robots also seemed to always have a large forehead and a subtle somberness to their predominately cute expressions. Lastly, kids seemed to love them. Like, really love them.
Maybe it's because that height-to-body ratio is precisely that of a child's, and a large forehead is common to toddlers. Mora isn't sure exactly why he does it or what it may mean, but what he does know is that making the robots is akin to therapy for him.
"There's always been this thought that goes through my head when I'm making one of these robots," Mora said. "That the robot, like its creation or its eyes or its face or its emotion, will help me, the robot's creation is a literal representation of a mirror to process my own emotion through."
Mora has always wanted his art to be seen and interpreted, though he can still be surprised at people's reactions. Women often connect emotionally to the work, absorbed by the robot's eyes, pose or expression, while men are usually focused on the precision of the welds, and the complex geometry behind creating a fully articulate robot, he said.
Mora loves when people feel the emotion in his work and the unique personalities of each robot. Though it is ultimately meant to be light and playful, when people feel an emotional response, Mora knows they are fully seeing and understanding why he makes the robots.
Though he understands that there is an irony behind trying to elicit emotional responses to a robot, it feels natural for him, because he has always related to robots and their geometrical features.
"I understand the formal definition of robotic work, and my relation to that is, I have moving parts as well," Mora said. "And people view 'robot' as like it has a connotation for lack of humanity. But I don't think that."
He typically works 90-hour weeks, starting his day at Metal Supermarkets of Golden, where he is a manager, and ending by working late into the night on passion projects or client commissions.
In 2020, he was commissioned for a 12-foot robot installation in Highlands Ranch, and last year he helped the special effects company Raptor House Effects design fingers for the Thing Hand in promotional materials for the Netflix special "Wednesday."
A lot of the money he makes from those projects is contributing towards building a 2.5-ton mobile welding workshop that Mora can use to display his art and create new projects. It's more than two years into the making and still has several months to go, but when he is done, the truck will significantly advance his ability to be a full-time fabricator and business owner, Mora said.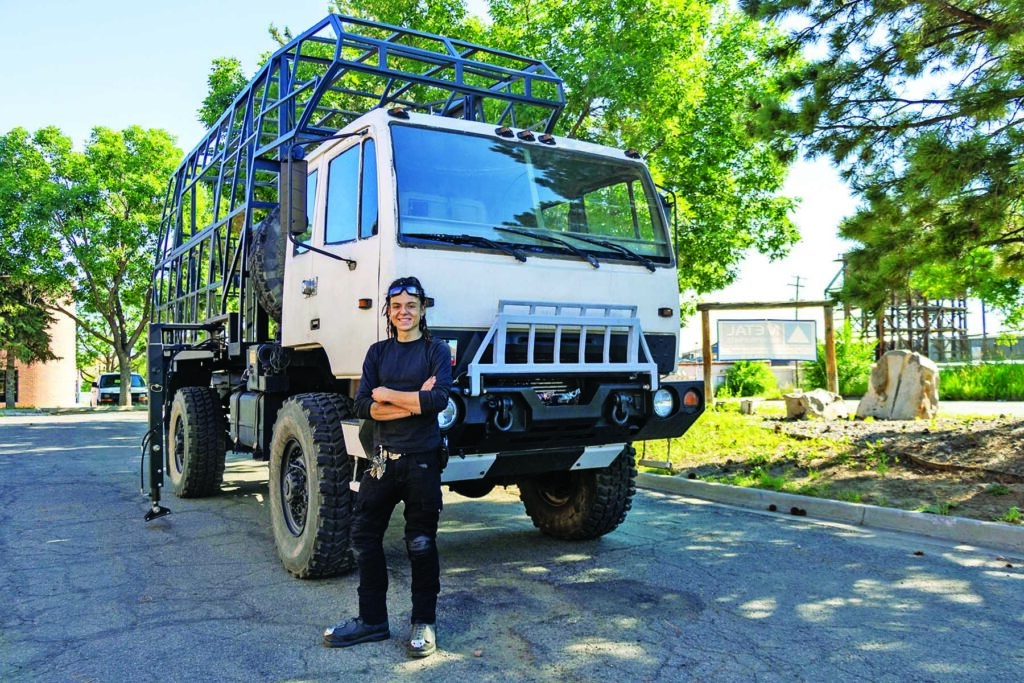 Though Mora's brand has extended to represent top-tier welding, creative fabrication solutions and a pair of garage door sensor covers that went viral on Instagram in April, he has never wavered from his focus on robots.
"If you find me through one of the videos, I really hope you liked the robot, because that's what this is all about," Mora said. "Thanks for supporting with your likes and comments and views, but the robots are why I care to be in this business at all. I don't know a better way to say it than that."