"As soon as you turn east onto 38th Avenue from the business and craziness of Wadsworth, you enter this small town feel of a city doing things that brings a community together," said Russell Wilbar, owner of Artcentric, a new art gallery and picture fame shop. "To have a community-centered art business here seemed like a real good fit. And it's close to the Center for Music and Arts, [the church building on the corner of West 38th Avenue and Vance Street]."
When Wilbar saw the empty space at 7172 W. 38th Ave. and researched the opportunities in Wheat Ridge, he thought, "Let's grow up with this. If you're a growing business, I think it's a good place to grow with. I'm hoping that eventually we can make this area into a creative district – we could have First Fridays here."
Wilbar has been framing pictures since his days as an art major at the University of Northern Colorado, from which he earned an art degree in 1998.
"I realized I could make money cutting mats for the photo lab, because nobody else wanted to do that. I made enough for ramen and beer, and that was good enough for me."
Working for the Hobby Lobby in Greeley, he furthered his knowledge of framing before moving full time to Denver, where he worked as a graphic designer then in a variety of frame shops.
"But I always wanted to have an art gallery, and I knew I would need a revenue stream other than art. Picture framing is a natural fit.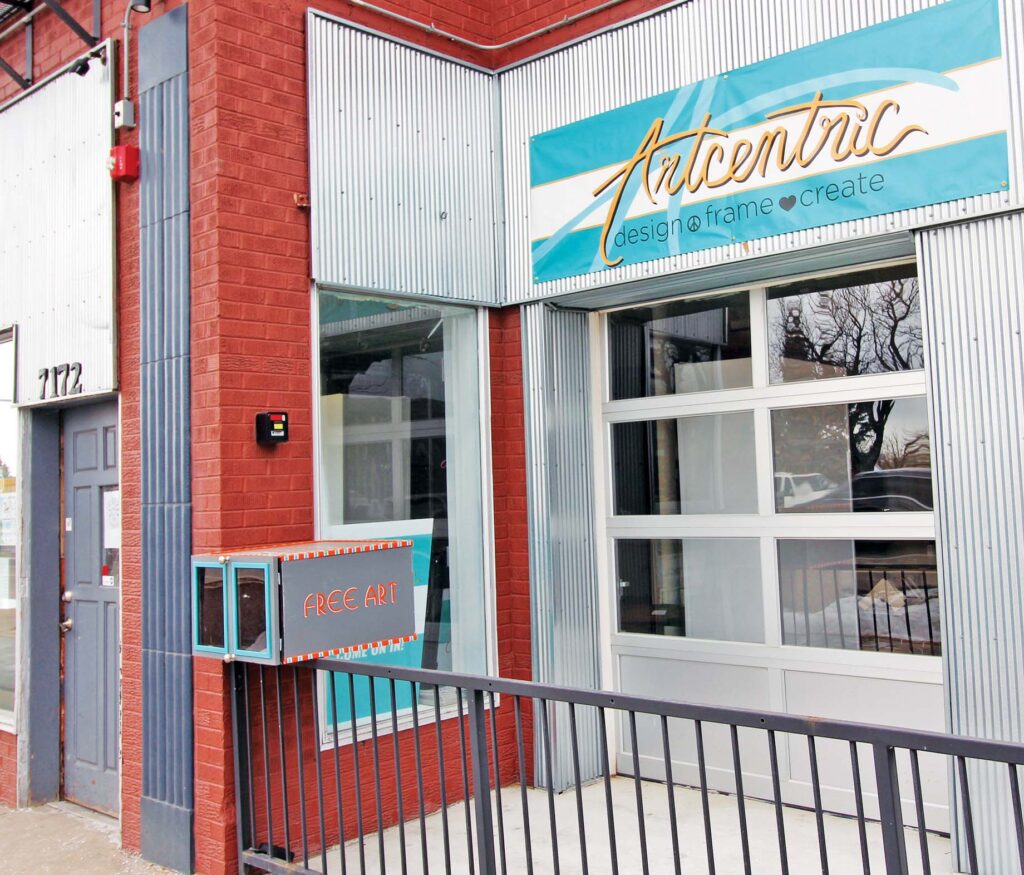 "There's a reason why the business is called Artcentric. It centers on what this shop is all about — one that's centered around art. I thought this building, which had been a gym, would be receptive to having an art gallery in it. It has space to produce good work, and there's a wall with exposed brick. Once I started meeting people in this neighborhood and the folks at the Wheat Ridge Art League, it made my decision a lot easier."
"I like working with creative people — that's what picture framing really is: working with someone who bought something they really love."
He sees his role as one of educator, to lend his expertise about what conservation-grade framing is and to work with the customer to achieve a result each wants.
"An idea a customer has might not be workable, but you listen and ask questions, and explain the importance of conservation-grade protection of art. You're helping them fit it into a space they have, so you're a creative collaborator. A customer may come in with a set of expectations, but we will elevate that vision even further. It's no longer just a picture on the wall but becomes a conversation piece. It takes a lot of listening, but we can make the art even better."
The framed art against the red brick wall or which hangs from moveable modules throughout the spacious gallery show the thought that Wilbar has put into his craft.
"Everything I frame is a narrative in some regard."
A few of the more unusual framing projects he's done include one of bullet casings, a giant shirt worn by a customer before he lost 200 pounds; and a letter from World War II, when the [stationery] soldiers used was a very thin, onion skin-like paper.
"The paper and the envelope were one and the same, to save shipping weight. That letter was from somebody's father who died on Normandy Beach. The customer came to me in tears, it was so special to him. It's definitely rewarding work."
A quote can be requested on Wilbar's website, Artcentric.design, where he has three-tiered pricing and can break down the cost for each element of the framing project: the glass, mat boards, moulding and labor, etc. – "there are no hidden costs." His Stock tier is designed for the budget minded, and there are Mid-grade and High-end tiers. He says the online quote is usually close to what you'd receive in person.
Wilbar is from Florence, Colo., which is near Cañon City.
"I was born and raised there. I grew up right off the Arkansas River, on Main Street. I would cut school to go fishing like Huck Finn – and go tubing. In 1992, Wilbar was 18 when he moved out of Florence before the Federal prison moved in. He enrolled in the University of Northern Colorado and majored in art, earning his degree in 1998.
As an artist, Wilbar did "found object art" for a long time – there is a piece in the gallery he created from hardwood paneling on an old solid-panel wood door painted with acrylic paint.
"I love stuff like that. I've also done drawings, works on canvas and print-making."
On the reason he was drawn to open Artcentric in Wheat Ridge, he said, "You need a north star to sail to, and there is a lot of enthusiasm for the arts in this community. I would like to see this area grow into an arts district, a nice center hub to take classes, to produce art shows and to work with Localworks and the Center for Music and Arts and with projects like Art in the Barn."
Classes at Artcentric, 7172 W. 38th Ave., will be Thursday evenings, 6 to 8; call 720-982-4968 for more information, or visit Artcentric.design.