In March, with interest rates bouncing around in the mid-6 percents and an active listing count 105 percent higher than last year, Edgewater, Lakewood and Wheat Ridge experienced an average sales price loss of 11 percent year-over-year. Surprisingly, even with months of inventory skyrocketing by 125 percent over last year, the options are still very slim for home buyers with less than one month of available inventory. That means that if no more new listings came to market starting today, based on the current pace of the market, inventory would sell out completely in 27 days. A "balanced" market, not weighted towards buyer or seller, would have four to six months of available inventory.
The pace of the market has picked up exponentially since February with half of homes that contracted in March doing so in five days or less compared to 16 days the previous month. That's nearly in line with last year's lightning-pace of a median of four days before contract. While the average sale is no longer closing well above ask price, sellers are on average receiving full ask price, and for those contracting in five days or less, there should be an expectation among buyers that they will undoubtedly have to pay something over list price in order to win in competition.
The peak for average closed prices in Edgewater, Lakewood and Wheat Ridge occurred last May with $650,161. From that point, there were minor crests and valleys that ensued for the last half of the year as interest rates fluctuated wildly before finally bottoming at $510,305 in December. January and February saw significant gains from that point with both months averaging over $570,000, but March turned out to be a bit of a valley despite the increase in activity with an average closed price of $555,699. Concerned sellers can breathe a small sigh of relief, though, as April appears to be back on track with an average closed price so far of $605,649.
According to the Bureau of Labor Statistics website, the seasonally adjusted unemployment rate for Colorado ranks 14th lowest in the nation with only 2.9 percent in the face of concerns of an impending recession, and that has been a key factor in continued buyer demand throughout the Denver Metro area.
The housing inventory in Wheat Ridge and Lakewood is a prime target for buyers seeking more interior space as well as distance between neighbors. Edgewater buyers can enjoy the Edgewater Marketplace coupled with the shops and eateries lining both 25th Avenue and Sheridan Boulevard, along with Sloan's Lake literally across the street. It's a fully self-contained living/shopping/dining/recreation experience. While the homes and lot sizes in Edgewater are generally smaller than in Lakewood and Wheat Ridge, the pedestrian-friendly environment it offers will continue to attract home buyers indefinitely.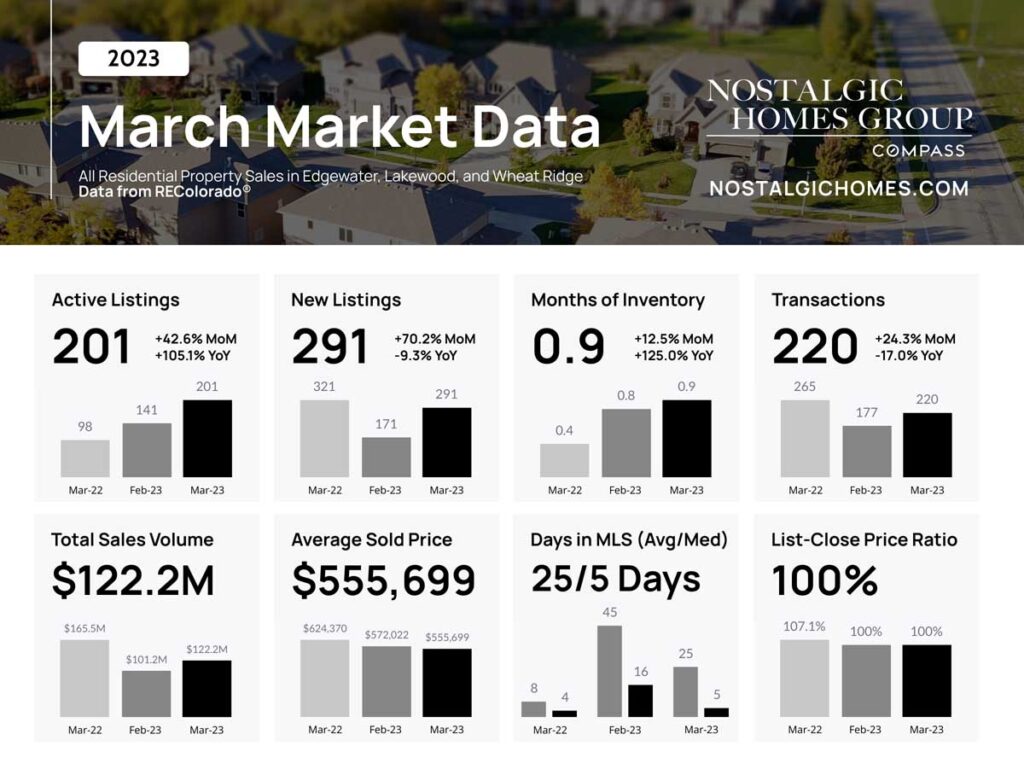 Thinking of buying or selling right now? Contact a seasoned professional to talk with – we're here for you.
Jenny Apel is with Nostalgic Homes | Compass; 303-570-9690, www.nostalgichomes.com