Volunteers And City Foresters Spruce Up West 38th With New Trees, Thanks To Grant
A dozen volunteers led by the City of Wheat Ridge Forestry Team planted 10 new trees along 38th Avenue last month, according to Forestry & Open Space Supervisor Andrew McDonald.
The May 14 event was made possible by a $4,000 grant from the Colorado Tree Coalition (CTC) and the Colorado State Forest Service for the Wheat Ridge Main Street Additional Tree Planting and Ash Tree Replacement project, according to a city press release. The Forestry team, part of the Parks and Recreation Department, will utilize this funding and matching city funds to plant additional trees and replace failing trees – about 25 – along West 38th Avenue between Sheridan Boulevard and Harlan Street.
"Prior to planting, a survey went out to the community providing the opportunity to vote for which species of Front Range-appropriate trees were to be planted," said McDonald in a written statement. Survey results for proper tree selection were considered and appropriate new-but-proven species were chosen, including John Pair Maple, Ginkgo and Frontier Elm.
"The outcomes of this project include aesthetic, environmental, and social benefits to Wheat Ridge and the greater Denver area. Improving this corridor with new trees not only beautifies the area, but increases species diversity and tree canopy equity in a neighborhood that has not historically benefitted from healthy tree cover. Environmental benefits of a greener Wheat Ridge are an increase in cooling heat islands, storm water uptake, carbon storage/uptake, and air quality.
"Making this project and others become a reality reinforces the need for street tree planting projects and is an opportunity to expand tree funding into the future.
"The goal of this project was to promote community forestry through volunteer participation," said McDonald. "In addition to expanding tree canopy equity, this project informed the community on proper planting techniques, nursery selection, and the importance of species diversity. Finally, a major benefit of this project is cultivating a new, more diverse street tree canopy that will not be susceptible to the increasing threat of Emerald Ash Borer."
In addition, the city's Forestry team will plant up to 16 fruit trees in a new orchard area in Happiness Community Gardens. They hope to plant those trees by the middle of this month (June).
Wheat Ridge, if you haven't heard, is a "Tree City USA." Its Parks and Recreation Department maintains 20 parks on approximately 173 acres, three recreation facilities, 300 acres of open space, seven miles of trails and a community garden.
The Colorado Tree Coalition (CTC) is a nonprofit whose mission is to preserve, renew and enhance community forests statewide. The CTC awarded $42,620 in grants to 17 organizations in 2021, which allowed recipients to plant and manage trees in community forests across Colorado. Grants are made possible through the Colorado State Forest Service, the Xcel Energy Foundation, Xcel Energy Vegetation Management Program, Colorado Public Radio and CTC members and supporters. Since 1991, the CTC has awarded grants to 219 communities and organizations totaling more than $1,086,000. These grants have been matched with more than $8 million in community money and in-kind services.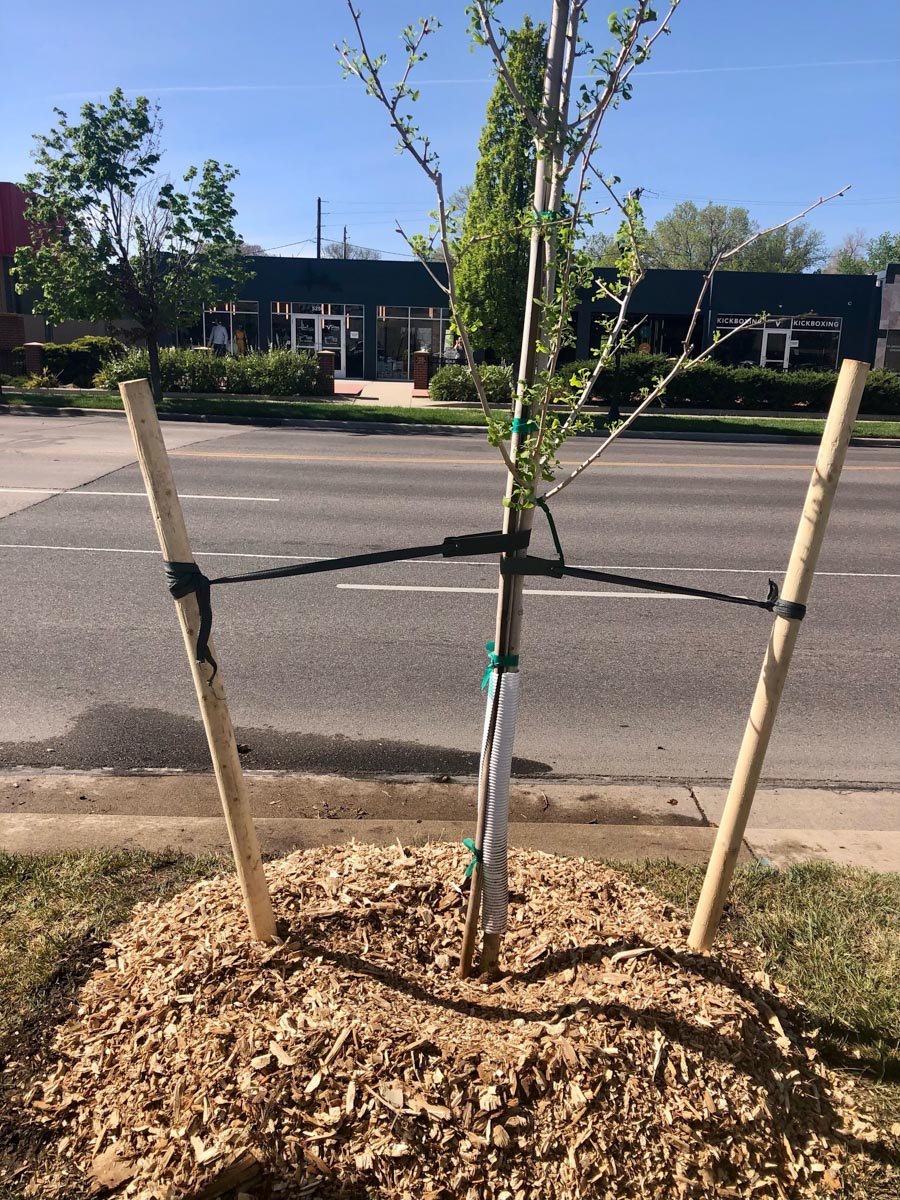 June 11 Is Yard Sale Day At Wheat Ridge Historical Park
Are you finished with spring cleaning? Do you now have a mountain of "stuff" you're ready to part with but can't bear to put in the trash?
At the Wheat Ridge Historical Society, we understand the concept of too much stuff. Although we can't just sell off artifacts willy-nilly (that's against the law for museums), we do have other tchotchkes to sell, and volunteers are happy to bring lovely items from home. Stop by to pick up a few things, or bring a carload of your stuff and set up shop with us. It's all happening on Yard Sale Day, June 11, from 10 a.m. to 2 p.m., at the Baugh House on the corner of 44th Avenue and Robb Street. We'll have live music and snacks, too!
If you missed the May Festival last month, you also missed the grand opening of the freshly staged Johnson Cabin, the oldest building in the Historical Park. Volunteers cleaned it top to bottom and did some minor fix-up work before staging it to authentically look like a home on the prairie for a family, newly arrived from back east. Settlers migrating west in the 1860s traveled with only the things they could fit in their ox-drawn wagon or what they could make upon arrival. The interior provides a good look at how the family existed, the foods they ate, the tools they used and how they managed to eke out a living with no means of outside support. The Johnson Cabin, along with the other Historical Park buildings, is open for tours Fridays, 10 a.m. to 3 p.m.
More change at the park is coming, as well. Now that warm weather is here, volunteers will start working on the Implement Shed just west of the Johnson Cabin. Filled with fascinating old plows, pumps, wooden washing machines, scythes, different kinds of barbed wire, and a fair number of "what in the world is that?" items, cleaning and organizing will be a real challenge. If you're the type that likes to tinker with old stuff, join us – we can always use more help. This dip into local history should be a real adventure! Contact the WRHS at the numbers below for information on work days.
The Historical Park museums are open on Fridays, 10 a.m. to 3 p.m. We are happy to accommodate your needs and glad to make appointments for tours on other days; just call or email us at the contact information below.
For more information go to wheatridgehistoricalsociety.org, email wrhistorical@gmail.com, call 303-421-9111, or stop by the Red Brick House Fridays at 4610 Robb St. Or follow us on Facebook.
County Historical Info Available On New Website
The Jefferson County Archives recently launched a newly designed website to make historical information about the county easier to find.
It contains links to a searchable catalog, a new digital collections site and more. New content is expected to be added weekly. Explore the growing collection of records for genealogy research, historical maps, photographs and more.
Visit https: jeffco.us/757/Archives.
Wheat Ridge Police Welcome Full-Time Public Information Officer
Joanna Small was hired as full-time Public Information Officer (PIO) for the Wheat Ridge Police Department, according to a recent press release. She will serve as the voice behind social media, respond to incidents and media inquiries as the spokesperson for the department, and coordinate media interviews and updates regarding critical incidents.
Small served as the Public Affairs and Communications Manager for the Lynwood Police Department in a suburb of Seattle, Wash. She has 15 years of experience as a news reporter, writer, videographer, editor and social media content creator for television stations across the country. A Colorado native, she received her Bachelor of Science degree in Broadcast News from the University of Colorado, Boulder and "is excited to have moved with her family back to the Denver area."
Small's predecessor, Sara Spaulding, has served as the police department PIO and as the City of Wheat Ridge PIO/Communications Manager for more than five years. Spaulding has accepted a position as the Director of Communications for the City of Grand Junction.
Hey Kids (And Adults), Stay Away From Dead Or Sick Geese!
Avian flu is spreading among wild birds and domesticated poultry in Colorado, and neighboring Lakewood last month put signs in Cottonwood Park alerting community members not to touch sick or deceased geese. That's after Colorado Parks and Wildlife received a presumptive positive test for highly pathogenic avian influenza, commonly called the bird flu, in dead goslings in the park, according to a story on Lakewood's website.
CPW is continuing to investigate, and scientists believe that the risk to people is low as these types of flu viruses spread among wild birds and poultry, but the viruses do not normally infect humans or spread from person to person. Human infections are rare and happen in people with prolonged, unprotected close contact with infected birds or contaminated environments.
Wheat Ridge Celebrates Public Works With 'Take The Wheel' Event
In celebration of National Public Works Appreciation Week, the City of Wheat Ridge staged a "Take the Wheel" event for children as well as adults, the morning of Thursday, May 19.
Public Works staff staged a snowplow, street sweeper and a backhoe at City Hall, and allowed visitors to sit behind the wheel of a large piece of equipment, experiencing what city personnel are tasked with to keep the city streets clear of snow and debris and functioning well.
The Wheat Ridge Police Department Crime Prevention Team was on hand with a patrol vehicle, allowing kids to turn on the lights and sirens. Cookies and water were served and there were giveaways for attendees.
These statistics put Public Works' job into context:
Wheat Ridge has 135 centerline miles of street, and 286 lane miles. To keep those open for drivers, Public Works' staff:
• Drive between 7,000 and 16,000 miles for snow removal
• Sweep 3,630 miles of roadway (average)
• Spread 1,400 tons of salt in an average winter and 10,000 to 20,000 gallons of deicing liquid
• Respond to more than 400 calls for service outside of normal operations
• Install more than 100 tons of asphalt per year, and
• Manage more than 7,000 requests for utility locates.
Additional tasks include:
• Apply street markings
• Perform drainage work (36 miles of storm line)
• Haul more than 700 tons of debris to the landfill
• Repair and maintain traffic signals and signs
• Handle 400 vehicle service requests and repairs, and
• Hang multiple banners and facilitate special events, such as the Carnation Festival and Criterium.