Funds For Art, Bike & Pedestrian Improvements, Parks Included In Wheat Ridge City Council's Budget
The Wheat Ridge City Council announced the passage of the city's 2023 budget in late November, and it will go into effect on Jan. 1.
According to a press release from the city, the 7-0 vote "leveraged the city's strong financial position to invest in capital improvement projects, open spaces, and the city workforce."
Highlights of the budget include $20.9 million to finalize the first phase of the Improve Wadsworth project, which includes public art, $1.5 million for bike and pedestrian improvements along 35th Avenue, and over $7 million in parks and recreation facilities improvements.
"Passing this budget is a huge win for Wheat Ridge and will allow us to continue moving our city forward towards a better, more vibrant future," said council member Rachel Hultin. "I'm especially thankful to the administration for earmarking $50,000 of the proposed Neighborhood Traffic Management Plan funds, for traffic management projects in school areas. This is important considering the consolidation of our local schools."
To review the full budget please visit https://www.ci.wheatridge.co.us/115/CityBudget.   
Pioneer And Victorian Fashion Show Is Jan. 14 At The Historical Society's Baugh House
Start the new year off right with the Historical Society at the ever-popular Pioneer and Victorian Fashion Show, at the first Second Saturday Social of 2023, Jan. 14 at the Baugh House (44th and Robb Street) from 10 a.m. to 2 p.m. Join us for a celebration of fashion through the 1800s to the 1900s. Wear your own 19th century clothing, and take home a prize. Come and enjoy an old fashioned tea party, replete with a variety of crumpets and cookies served on beautiful antique china while you socialize and listen to live music.
The new year is now upon us, which means the membership drive is just around the corner. Become a member now, or update your current membership or, even better, upgrade your membership to a new level.
Even in the coldest season Historical Park museums are open on Fridays, 10 a.m. to 3 p.m. We take appointments for tours on other days and are happy to accommodate your needs; just call or email us at the contact information below.
For more information visit wheatridgehistoricalsociety.org, email wrhistorical@gmail.com, call 303-421-9111, or stop by the White Family Home at the Red Brick House Fridays at 4610 Robb St., and be sure to like us on Facebook.
Hat- And Mask-Making Classes Offered By Lakewood Arts In January
Lakewood Arts is offering a class on hat making on Jan. 14, and mask making on Jan. 21, 1:30 to 3:30 p.m. Geared to high-school students and older, cost is $18 per session for LAC members and $20 for nonmembers.
Other opportunities at the LAC gallery are wall rentals to display art, and Open Studio sessions every Friday to create art.
Through Jan. 27, the main exhibit in the Acorn Gallery will be "Abstractum-Fractal," showcasing works that highlight fractal patterns in nature. An opening reception is set for Friday, Jan. 6, from 5 to 9 p.m.
In late December, Lakewood Arts received a grant to encourage civic engagement from Community First Foundation. In a creative approach to grantmaking, the Foundation partnered with the Scientific and Cultural Facilities District to provide additional grant funds to Jeffco nonprofits actively working to increase inclusivity in the county. SCFD worked quickly with the Foundation to share grant applications so awards could be made before the year's end.
Lakewood Arts is located at 6501 W. Colfax in the 40West Arts Hub.
To sign up for classes or for more information go to lakewoodarts.org or call 303-980-0625. 
New Playgrounds Completed At Wheat Ridge Parks
Wheat Ridge families can now enjoy two new playgrounds at Apel-Bacher and Creekside Parks. The new playground designs were finalized using feedback from the community about each project site, according to a recent press release from the city.
The new playgrounds focus on physical fitness, imploring the six essential elements of play: sliding, spinning, swinging, brachiating, balancing and climbing. This design is a national demonstration site for Playcore's "Play-On!" playground design, which was developed in partnership with Shape America and Louisiana State University.
The design encourages children to move, explore and engage in active play while providing developmental progression of skills for beginner, intermediate and advanced level users. Both playgrounds are part of Wheat Ridge's larger commitment to invest in outdoor recreation.
"I know these playgrounds will get a lot of use in the new year, and for years to come," said mayor Bud Starker. "We're grateful to be able to serve and provide safe and high-quality recreation to the young people of Wheat Ridge."
The Parks and Recreation department received discounted pricing on the new playgrounds through a Colorado Parks and Recreation Association and Playcore collaboration.
This past year Prospect Park reopened with major improvements including a pickleball court, and Panorama Park opened a new outdoor fitness court. In 2023 the Parks and Recreation department will focus on improvements to existing parks, ADA accessibility, and a community gathering space at The Green at 38th, according to the press release.
For more information visit https://www.rootedinfun.com/.
Lutheran Medical Center Receives Major Gift from Community First Foundation
The Community First Foundation (CFF) has made a major contribution to the Lutheran Medical Center Foundation's Legacy Continues Campaign.
The $3.1 million gift will support the replacement Lutheran Medical Center project at Clear Creek Crossing, as well as help advance the health of people in Jefferson County and surrounding communities, according to a press release from Lutheran.
To show gratitude and acknowledge the partnership, the hospital will name the new central courtyard and public gathering space for Community First Foundation.
Lutheran is building a replacement hospital to replace its current, aging facility.
Community First and Lutheran have a shared legacy of caring for Jefferson County. In 2007, when the hospital joined what would later become SCL Health and is now Intermountain Healthcare, the proceeds from the transfer of the hospital were used to help create the Lutheran Community Foundation, which is today known as Community First Foundation.
Since its creation, CFF has invested in a variety of projects to promote community health and has grown into one of the largest community foundations in Colorado. CFF operates grantmaking programs that serve the Jeffco community.
This gift advances the success of the Lutheran Foundation's capital campaign, which has reached nearly 70 percent of its five-year fundraising goal of $12 million to support the replacement hospital.
Founded as a tuberculosis sanitarium in 1905, Lutheran Medical Center is Jefferson County's first hospital. Today, Lutheran operates one of the busiest Emergency Departments in Colorado, provides Jefferson County's only Labor and Delivery program, and offers unique emergency and behavioral health programs that prioritize the wellbeing of older adults.
The new hospital will:
• Expand access to emergency and critical care for families up and down the Jefferson County and West Denver suburbs, with easy and quick access from I-70, Hwy. 93, and U.S. 6/Sixth Avenue.
• Elevate health care in the region with a well-designed, energy-efficient, and flexible facility designed with the patient and caregivers top of mind.
• Provide more comfort for patients and families, with all rooms being more open and brighter with floor-to-ceiling glass, making for more natural light in the room.
• Help drive economic growth in Jefferson County and West Denver, employing 2,000 people in well-paying jobs and contributing more than $1.1 billion. Lutheran remains the largest employer in Wheat Ridge.
Learn more about the replacement hospital at TheLutheranLegacy.org.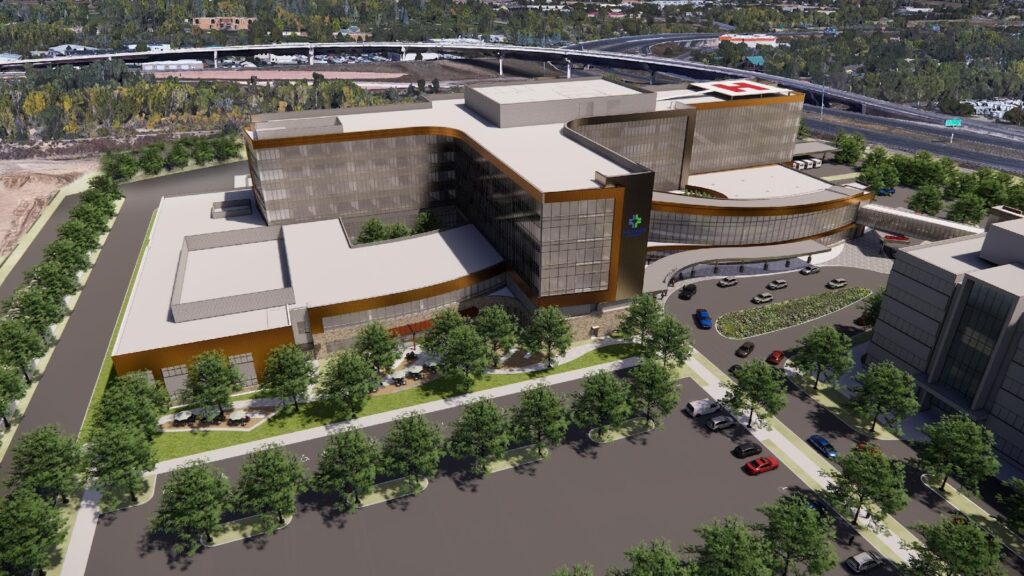 Red Cross Asks You To Heat Your Home Safely As Cold Weather Sets In
Heating equipment is the leading cause of home fire deaths, with most occurring from space heaters. So the American Red Cross Mile High Chapter urges everyone to safely heat their home by following critical steps to avoid a home fire.
Last year, volunteers responded to over 180 home fires across the Mile High area and assisted nearly 830 people. Overall, home fires account for most of the 60,000-plus disasters that the Red Cross responds to each year across the U.S. – where home fire responses are 23 percent higher during cold months than warmer times of year.
Follow these safety tips and visit redcross.org/fire for more information, including an escape plan to practice with your family:
• Keep children, pets and anything that can burn at least three feet away from heating equipment.
• If you must use a space heater, never leave it unattended. Place it on a level, hard and nonflammable surface, such as a ceramic tile floor. Don't place it on rugs and carpets, or near bedding and drapes.
• Plug space heater power cords directly into outlets — never into an extension cord. Turn the space heater off every time you leave the room or go to sleep.
• Never use a cooking range or oven to heat your home.
• Never leave a fire burning in the fireplace unattended. Make sure any embers in the fireplace are extinguished before going to bed or leaving home. Use a glass or metal fire screen to keep embers in the fireplace.
• Have furnaces, chimneys, fireplaces, wood and coal stoves inspected annually by a professional and cleaned if necessary.
If you cannot afford to purchase smoke alarms or are physically unable to install one, the Red Cross may be able to help. Contact your local Red Cross for help.
Visit redcross.org/homefires for more information.
Lakewood Offers Free Audit And Retrofits To Help To Lower Household Water And Heating Bills
Lakewood has a new program to help qualified Lakewood families lower their water and heating bills with a free energy audit that can include two free water-saving toilets and other water and energy fixture upgrades, according to a press release from the city.
Lakewood is now a partner with Mile High Youth Corps to provide in-home water and energy assessments and retrofits. During the free energy audit, the following items will be assessed and potentially replaced, all free of charge: Shower heads and faucet aerators; up to two toilets; thermostats; light bulbs; and carbon monoxide/smoke detectors.
Mile High Youth Corps hires and trains young adults to provide these free energy and water conservation measures to income-qualified homes. These adults are part of the AmeriCorps network and are certified on a variety of installations including toilets, showerheads and lighting.
The income qualifications vary by household size.
Lakewood residents interested in the program can visit the Mile High Youth Corps' website at MileHighYouthCorps.org/free-install-services or call 720-974-0500, option 2.
How Are We Faring In Our Battles With Porch Pirates? Do Victims Bother To Report Theft?
It's the season to be wary, as there's been an increase in porch pirating incidents across the country, and local communities have been affected.
According to Luis Sorto of Digital PR/Fractl, a gathering of data using Google AdWords to pinpoint which states, cities and couriers have had the most issues with stolen and missing packages over the last five years and in 2022 produced the following results:
• Colorado ranks 14th for the most stolen packages per capita, at 198 per 100,000 residents – the top three were Washington, D.C., Vermont and North Dakota.
• In Colorado, Lakewood and Thornton, rank in the top 30 cities for the most stolen packages over the last five years. Fort Collins ranks in the top 25 for most stolen packages in 2022.
• The Postal Service had the most searches about stolen packages in the past five years, followed by Amazon.
• UPS and Amazon have reported a 15 percent increase in stolen packages in 2022.
In a separate survey of 1,500 people by LendingTree's ValuePenguin,
35 percent of Americans have had a package or delivery stolen from their doorstep or mailbox. That found:
• 59 percent of American consumers who've been a victim of package or delivery theft say it occurred in the past year. The majority of porch piracy occurs at single-family homes (62 percent) and apartment buildings (23 percent).
• Security cameras appear to be doing little to deter porch pirates. Sixty percent of Americans who've reported a stolen package or delivery have at least one security camera. To protect their goods, many Americans impacted by porch pirates are stalking their deliveries by setting up tracking notifications (45 percent), installing doorbell cameras (35 percent) or choosing delivery times (27 percent).
• When it's time to take action, only 17 percent of package or delivery theft victims in the past year say they reported the theft to the police. Most opt to resolve the issue through a claim with the seller (62 percent), while 30 percent do so with the shipping company.
• The average estimated value of the goods stolen in the past year is $114, though 71 percent of victims say they received some form of compensation during the most recent theft. Looking at the last time a package or delivery was stolen, 55 percent report receiving all their money back or getting a replacement item. However, 29 percent report they received no money or had to pay extra for a replacement item.
For a full breakdown of the survey results, visit www.valuepenguin.com/porch-pirates-survey 
Your E-Bike Can Now Ride Along On RTD
Regional Transportation District customers are now permitted to travel with battery-powered electric bikes, commonly known as e-bikes.
E-bikes can be brought aboard RTD transit vehicles, with some exceptions:
• Those exceeding 55 pounds may not be loaded onto any bus-mounted front bicycle rack
• For regional buses, such as those used for Flatiron Flyer service, e-bikes must either fit on the front bike racks or in the luggage compartment beneath the vehicles
• Gasoline-powered vehicles remain prohibited aboard transit vehicles
E-bikes may not be brought onto the light rail "high blocks" – those elevated ramps for boarding – which are intended for use by individuals with disabilities and are not intended to accommodate devices that are not primarily designed or intended to assist persons with mobility disabilities.
RTD has updated the Bike-n-Ride webpage to reflect additional policies or best practices around e-bikes that have been put into place.
The rule change took place in mid-November. To arrive at the decision to allow e-bikes, RTD staff worked with the American Public Transportation Association and researched the e-bike policies of nine U.S. transit agencies to understand their practices and consider whether such vehicles can safely be accommodated on the RTD system.
Lutheran Medical Center Awarded 'A' Hospital Safety Grade
Lutheran Medical Center received an "A" Hospital Safety Grade from The Leapfrog Group for the 11th consecutive time, and the 15th time since 2014, according to a press release from the hospital. This national distinction celebrates Lutheran's achievements in protecting hospital patients from preventable harm and errors.
The Leapfrog Group is an independent national watchdog organization with a 10-year history of assigning letter grades to general hospitals throughout the United States based on a hospital's ability to prevent medical errors and harm to patients, per the release. The grading system is peer-reviewed, fully transparent, and free to the public. Hospital Safety Grade results are based on more than 30 national performance measures and are updated each fall and spring.
"I applaud the hospital leadership and workforce for their strong commitment to safety and transparency," said Leah Binder, president, and CEO of The Leapfrog Group. "An 'A' Safety Grade is a sign that hospitals continuously evaluate their performance to protect patients best. Your hospital team should be extremely proud of their dedication and achievement."
Founded in 2000 by large employers and other purchasers, The Leapfrog Group is a national nonprofit organization driving a movement for "giant leaps" for patient safety.
To see Lutheran's full grade details and to access patient tips for staying safe in the hospital, visit HospitalSafetyGrade.org and follow The Leapfrog Group on Twitter, Facebook, and via its newsletter.