The Town Council recently placed a six-month moratorium on new short-term rental (STR) licenses. Prior to the moratorium, there was no limit to how many STR licenses could be issued in the town that is 12-square blocks. And currently, the town's STR code only considers entire residential structures licensable as STRs. Portions of homes that are rented on such sites as Air BnB and VRBO (such as apartments, attached guest suites or bedrooms, basement apartments or attached mother-in-law units) go unregulated. The council will be revisiting issues related to safety considerations, quality of life for neighbors, occupancy numbers, and enforcement. A number of properties in town have been purchased and converted to STRs that advertise themselves as suitable for parties of 10 or even 12 guests. And residents have been reporting concerns about parking, noise and trash.
Council Member Brent Metz expressed his support for updating the code and lifting the moratorium as quickly as possible, given the likelihood that property owners have project plans and should not be left in limbo without regulations to guide development. Council Member Brittany Loecher, who herself has short-term rentals in other states, stated that as much as she supports property rights, she loves Mountain View and wants to see the town handle STRs in a safe and effective way that is consistent with residents' desires. Mayor Pro Tem Kathleen Bailey would like to see strict requirements for any STRs so that they do not disturb the high quality of life for residents. Council will hold a workshop to hear more about what other neighboring towns are doing to address problems with STRs and then staff will present recommendations. With the wide variety of opinions at the table, and multiple perspectives in the community, the issue is sure to present many opportunities for compromise.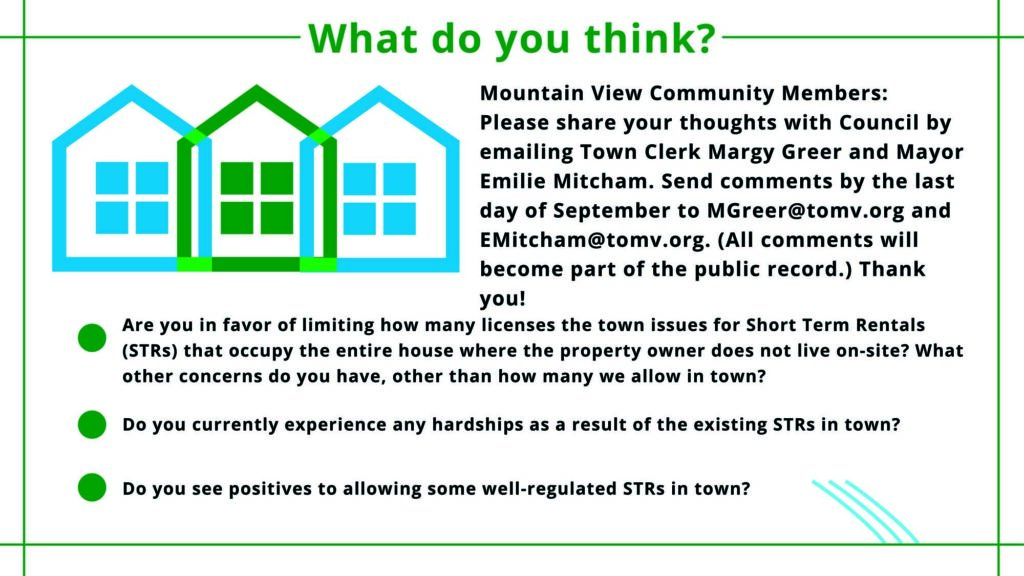 If residents and property owners would like to provide input in the conversation, they are encouraged to write the Town Clerk, Margy Greer, to share their thoughts. All community feedback will be shared with the council. Mayor Emilie Mitcham stated that as always, her priority is to solicit as much engagement as possible and then help the council craft solutions that meet the needs of the community and balance property owners' rights with the necessity to have safer regulations and realistic enforcement mechanisms.
Letters should be addressed to Town Council c/o Town Clerk Margy Greer at 4176 Benton Street, Mountain View CO 80212.