"I'm flexible when I paint because I don't know what will emerge," says abstract painter Paula Weisz. "If you always plan, if you don't go beyond the borders, how do you know what would come out?"
Weisz says she's drawn to the abstract, whether it be interpreted realism or full-blown non-representational. She says her paintings are intuitive and organic because she almost never uses references, like photos or props.
"What I paint comes from my gut."
A Golden resident for 15 years, Weisz lived in Wheat Ridge for 15 years before that. She has been a member of the Wheat Ridge Art League (WRAL) since 2019 and treasurer of the organization since 2021.
She started painting in earnest after she retired in 2018 from her job as a securities regulator for the federal government.
"While I was working, I was too busy for art. I traveled for work and also got my degrees late in life, including a double master's degree. I was on the Wheat Ridge Planning Commission. So there were huge gaps when I had no creative activities.
"I had the ache to make, and I was really craving being around other creatives. Within four months of retiring, I joined WRAL and started entering art shows. Four of my pieces won awards the first year."
Weisz is a prolific painter and now has 150 finished and mostly finished pieces in her basement.
"I have more ideas than I have time for. I'm never out of ideas. I have pages of potential titles for paintings. I keep my ideas in a folder."
She believes the creation and response to abstraction is emotional since its interpretation is derived from our own unique experiences.
"When you and I look at abstract art, we see two different things. Different things emerge. A neighbor girl who makes paintings for my fridge was looking at the paintings in my basement and she said, 'Dog.' It took me a while to see the dog. I love it when people see different things."
Weisz says her ideas rarely come from subject matter.
"I look at things differently than some people might. I get inspiration by looking at something and thinking, 'That draws me because of the contrast between light and dark, or the shapes, or the color combination.' My creative side thinks abstractly."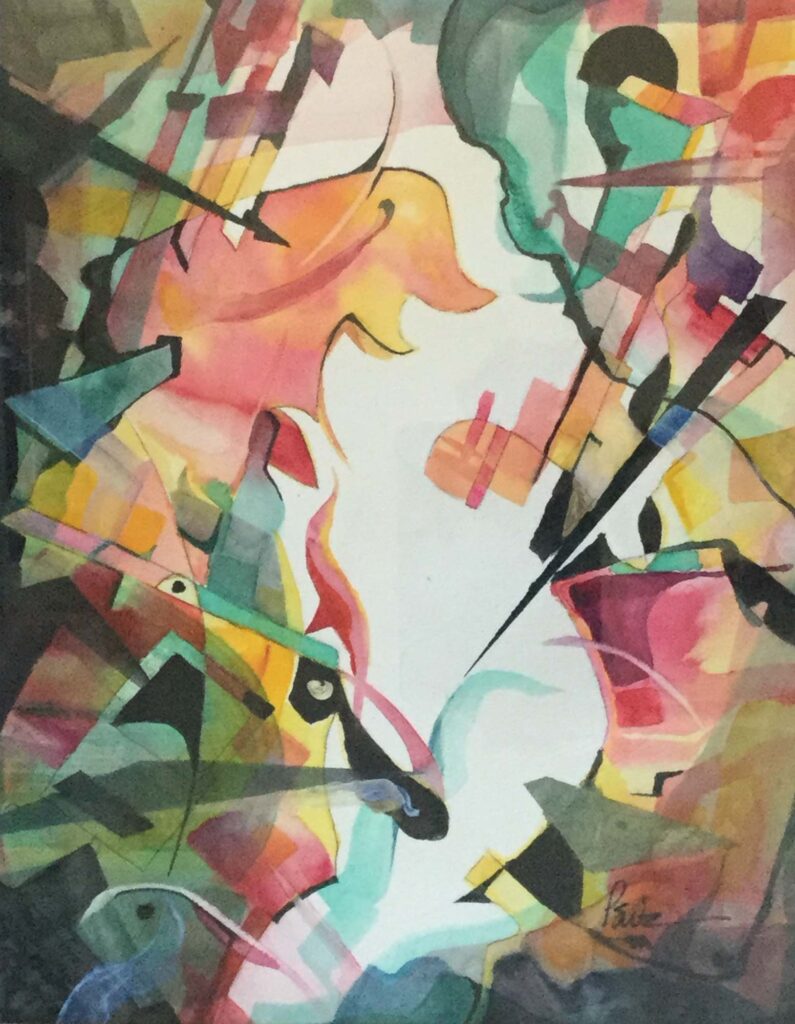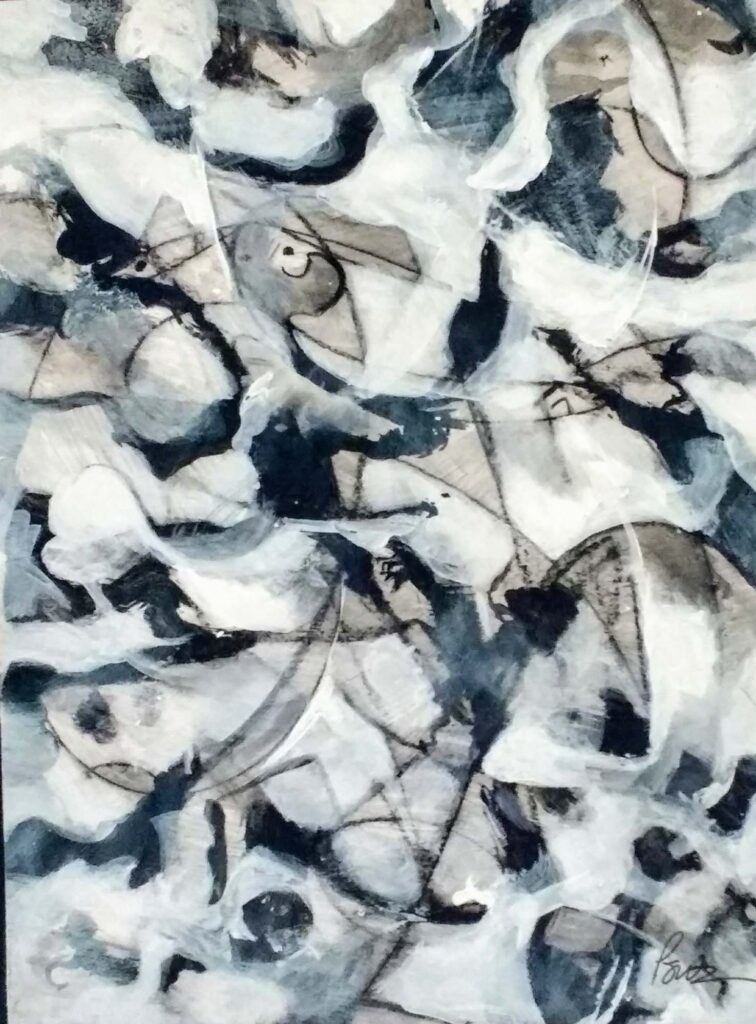 For Weisz, abstract painting is process-driven.
"Instead of starting with a blank canvas, I might put texture down first," she said. "I might employ a particular way of applying the paint, or addressing the shapes and proportion, or putting colors together: deciding what goes next to what. I do sometimes search for an idea for what I want a painting to look like, but not as guidance for subject matter."
Her favorite structure for a painting is the cruciform (cross).
"I'm drawn to that because I like the balance of it. It leaves room for the eye to rest and allows the painting to be not as busy. When I won third place in a juried show, a juror said I was brave to leave so much space in the painting. I like lots of empty space."
Weisz says she rarely names her paintings until after they are finished.
"Contemporary artist Brian Rutenberg has said, 'An eye not told what to see, sees more.' I'm comfortable with letting it happen. I try to let it be."
Weisz sells a good number of her paintings, as well as getting them seen around town. In 2021 she donated some paintings to the Wheat Ridge Art Drop, a city cultural commission project that collects artwork twice a year. Like a treasure hunt, they "hide" them in various places around the city. The locations aren't publicized, only pictured on Facebook. Whoever finds the art can keep it.
"The city does it to bring attention to businesses, recreation centers and parks to encourage the public to become familiar with those locations. It also provides exposure for artists. It works for me because I feel like it contributes to peoples' enjoyment of my work. And I enjoy that it's out there and not just sitting in my basement."
Born in Guam to a Navy family, Weisz's family moved around, and she grew up mostly in Texas and Tennessee. They moved to Colorado when she entered high school at Arvada West.
She says her earliest memory of being focused on her creativity was at age four, when she was coloring at a neighbor's house. Without looking, she picked up and mistakenly ate a purple crayon instead of the stick pretzels offered by the neighbor.
Weisz says she is a natural artist, born with God-given talent. She is mostly self-taught but received instruction in the last 20 years from three working artists: Loraine Miller at the Lakewood Arts Council; and both Yvonne Stark and Michael Gadlin at the Art Students League of Denver.
"When my last instructor quit teaching, I decided to change gears and work on my own to employ what I've learned."
About the evolution of her art, Weisz says, "I've learned that I can color outside the lines – in fact, I don't need lines at all. My art is more me now as opposed to what's dictated."
Along with the WRAL, Weisz is a member of the Arvada Fine Arts Guild, the Lakewood Arts Council, and the Foothills Art Center.
For more information visit paulaweiszart.com.