"I go into my zone when I'm painting," says artist Julie Midyett. "I call it my happy place."
Midyett has had a talent for art since she was a child, but she stopped painting seriously as a young adult when "life happened." Marriage, children and a career in accounting and tax preparation kept her busy until she returned to her art in 2008.
Now this old passion has resurfaced in full force.
"I paint every day now. It's become an obsession," says Midyett, 60.
Her favorite medium is oil and she enjoys realism.
"My first teacher 13 years ago [classical realist Marianne Billingsley] taught about the great masters. I like the science of what they did, and I appreciate the time it takes to get the details, to make something look real. It takes concentration."
Underpainting and working with color values are two of the techniques Midyett uses. For her study of underpainting, or verdaccio, she copied part of a painting by 17th century master Peter Paul Rubens. "I took a snapshot of a little boy from a larger family portrait. He is so detailed, so real-looking."
She works with color value (the lightness and darkness of a color) to give an object a three-dimensional look.
"Using 10 different values of the same color, you can make an object look round."
Despite her preference for oils and realism, Midyett challenges herself to experiment in other mediums and styles.
"I've always loved to draw. With colored pencils, you're layering to get colors and texture. It's fun to do animals because you can get their fur. The newer pencils are wax, which is better to work with.
"Style-wise, my instructor encourages me to be more 'painterly' — to capture the general feel with more abstract shapes and not so much detail. Some abstract pieces are pretty, and I may do that at some point — but right now it's realism."
Midyett is inspired by a wide range of subjects.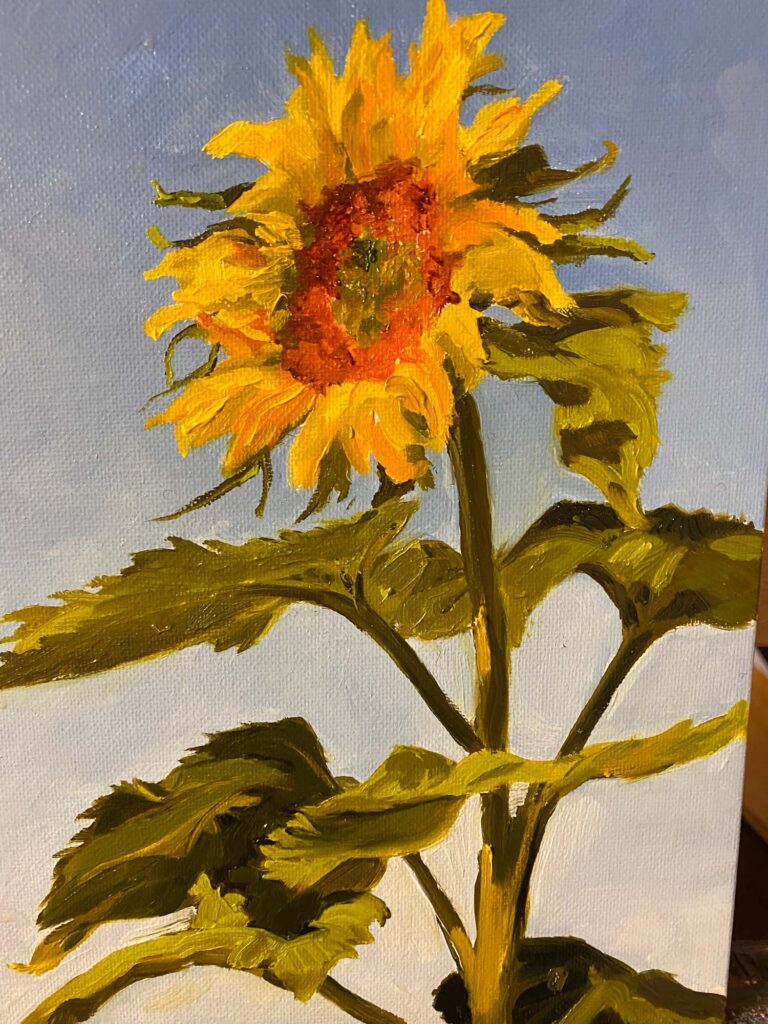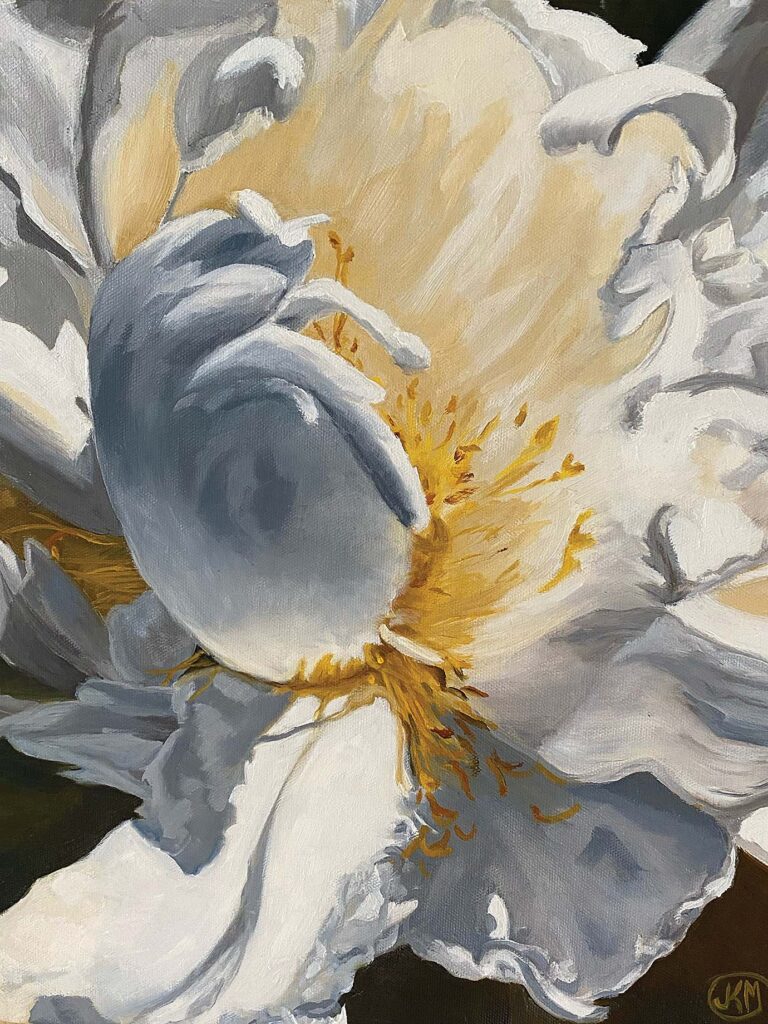 "I like landscapes, portraits, animals, blown-up views of flowers. I like birds and trees — I get into the details. Right now I'm working on some brightly painted buildings in Belize. I'm experimenting with acrylics, which are brighter and dry faster."
She was born in Michigan and her family moved to Colorado when she was 16.
"It was always art with me. In Michigan, we lived out in the country, and I was always drawing and painting to entertain myself — mostly with pencils and crayons. In preschool my watercolor was chosen to go into an art show and in high school I won an award for interior décor. So I always had an artistic flair. I've always had a knack for choosing the right colors."
In college she gave up fine art to have a career, marriage and kids.
"Life got busy. But I kept doing crafts-y stuff for a relaxing outlet. I kept decorating, did faux painting, and painted ceramics and furniture. I did macrame. I have to laugh because now macrame is back in style!"
Midyett earned a Bachelor of Science degree in clinical nutrition, but did not pursue a career in that field. She worked in accounting and tax preparation — from home when the kids were small — as well as real estate and managing rental properties. She is a 20-year member of Better Investing, an educational nonprofit that teaches about the stock market, and she was a member of the Women's Investment Team of Denver.
Her family lived in Colorado Springs until moving to Golden 20 years ago. Her son is now 31, and her daughter, 34, has two children, ages 5 months and 3 years.
"They live in Golden, so I get to see the grandkids. The 3-year-old wants to paint with me but that only lasts about five minutes."
In 2008 she wanted to rediscover her artistic talents.
"It was a right brain-left brain balance thing. I found that when I do taxes, my creative juices dry up. It takes a while to recover after tax season."
Midyett got serious about painting after her husband bugged her to do it.
"I kept saying I'd take an art class but I didn't do it. I knew I was good as a kid, but I was afraid I'd lost it. He got tired of me saying I'd take a class so he finally said, 'Don't take a class.' Then I signed up! It's a joke with us now."
A member of the Wheat Ridge Art League for five years, Midyett shows her work at the Carnation Festival and won third place several years ago. Sina March, her instructor, is president of WRAL.
"Sina is a wonderful instructor. Last year during the pandemic, we painted outside until the rain and snow came," said Midyett.
Midyett is a member of the Art Student League of Denver, the Denver Botanic Gardens and the Denver Art Museum. She said she brings more appreciation to art now than when she was young.
"I'm more appreciative of other artists and I love to buy art. Our house is full! I also appreciate the work of art museums and the money involved for them to bring art."
She says her biggest challenge is to make her subjects "look rich and real, not flat."
Her greatest reward?
"When I nail it, it's satisfying."
All of Julie Midyett's paintings are for sale. Reach her at the Wheat Ridge Art League, wralcolorado.weebly.com.