In the year since the Wadsworth Improvement Project began in Wheat Ridge, surrounding neighborhood streets have not been crowded by vehicles avoiding construction delays, and the project is on schedule and budget.
In an interview and emails, city spokeswoman Amanda Harrison said the $62 million project between 35th Avenue and Interstate 70 and the Clear Creek trail is about 30 percent complete.
City and Colorado Department of Transportation officials broke ground on the project in October 2021. Harrison said work is scheduled to wrap up in the summer of 2024. Construction crews had not run into any unforeseen problems.
Wadsworth, Colorado Highway 121, was last widened to four lanes in 1959. The project will expand Wadsworth to six lanes. The extra lanes are hoped to handle traffic demands through 2040. About 45,000 vehicles per day drive up and down Wadsworth now.
The project also includes unique intersections at 38th and 44th Avenues, safer vehicle entrances and exits at businesses, a continuous sidewalk on the west and a bicycle and pedestrian path on the east side of Wadsworth.
Throughout the project, traffic is monitored in several different areas, such as north of 44th Avenue and west of Wadsworth on Allison Street.
"We have had no significant impact on the neighborhood streets, so drivers are not using those streets," Harrison said.
She added that neighborhood streets had just six or seven extra cars a day.
Harrison said the project's hotline phone number "has been pretty active with complaints, compliments and concerns."
When asked how many and the subjects of the complaints, Harrison said, "We respect the confidentiality and the privacy of the conversations between residents/businesses and the city is not able to disclose the details of those personal conversations."
"Open" signs with business names and their status were installed to encourage drivers to visit businesses during the project. Approximately 50 companies are located in the project area.
One change drivers will notice is no left turns, Harrison added.
"We think the end product is going to be something residents will think is amazing," she said. "There will be better traffic flow and an improved appearance."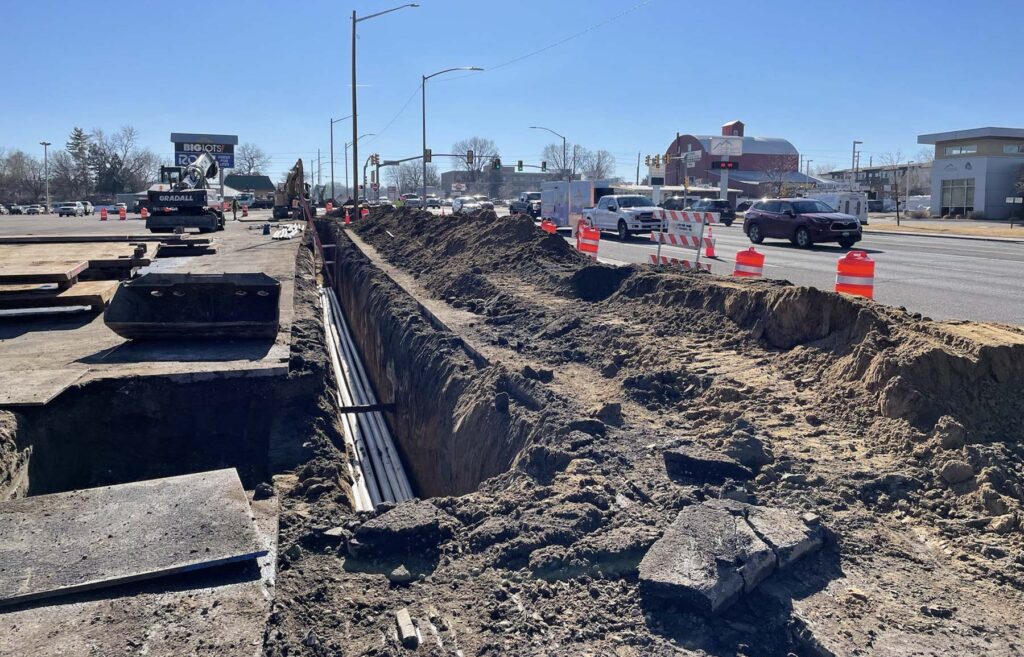 Sales tax money helps fund work
The city is using money from its 2016 voter-approved Investing 4 the Future half-cent increase in its sales tax rate on the project. It was one of four identified projects presented to voters with the ballot initiative 2E tax hike. Other money comes from state and federal grants.
The city's What's Up website noted the project's estimated cost in 2018 was $45 million.
After adding over $3 million in water quality and sanitary sewer work on top of dramatic increases in both property acquisition and construction costs, the total project estimate was almost $70 million. The city decided to cap the price at $62 million.
Unique intersections included
When it's finished, the project's main traffic change will be continuous flow intersections at Wadsworth and 38th and 44th avenues.
Instead of turning left from the center lane, left-turning vehicles will cross the oncoming traffic lanes about a block before each intersection. They then wait on the far left side of the road, behind a raised median, for a signal to turn when through traffic moves.
Other than the displaced left turns, the two intersections will have conventional through lanes, northbound and southbound right-turn lanes and raised medians. Median signage will help drivers make their way through these intersections.
The project is expected to result in:
• a 52 percent increase in traffic capacity;
• average rush hour speeds to increase from 10 to 20 mph;
• a two-way cycle track with connections to the Clear Creek bikeway; and
• improved transit facilities to complement RTD's increased frequency of bus route 76.
During construction, two lanes must remain open in each direction except for periodic northbound single-lane closures during off-peak travel times of 9 a.m. to 2 p.m. weekdays, and occasional night work. Two lanes will remain open during peak hours, and left turns from Wadsworth are only permitted at 44th Avenue.
While work is underway, drivers are encouraged to use Kipling Street and Sheridan Boulevard to travel north and south through Wheat Ridge.
Schedule and traffic impact information is updated weekly at What's Up Wheat Ridge-Wadsworth. The project hotline is 303-390-0878, or email wadsworthproject@ci.wheatridge.co.us. A system outage may limit email access. To receive traffic alerts, subscribe to Notify Me on the city website.
What Do You Think About Wadsworth Construction?
Want the world to know your experience of the Wadsworth construction project? Whether it has been good, bad or ugly, email us at editor@ngazette.com before Nov. 17 and we'll consider your comment for publication. Keep to 100 words or less, please. And mind your language. –Editor