"Colfax Avenue has always been critical to our mission," says Liz Black, executive director of 40 West Arts District. The move from their old location at 1560 Teller St. to the new building at 6501 West Colfax "is going to be really critical to the next five-to-ten years for the district, and even beyond that."
The grand opening of the new location will be celebrated during June 3rd's First Friday, 6 to 9 p.m., and will be open to the public.
The new building will serve as the headquarters for 40 West Arts District and be home to galleries relocating there, including 40 West Gallery, Core New Art Space, EDGE Gallery, Kanon Collective, Lakewood Arts, Next Gallery and Red Herring Art & Supply. The building has 11,000 square feet and is significantly larger than the old site.
"It's modern, it's funky, and, like the authenticity that Colfax has always had, it's a little grit, a little glitter," Black says.
"A lot of our local residents, who have lived in surrounding neighborhoods to the new building since their childhood, remember it fondly as the Denver Drumstick chicken restaurant and enjoyed going there as children, to see the model train that ran along the walls."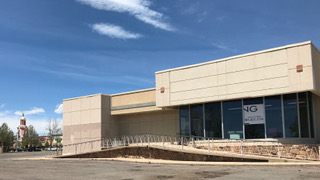 Why the move?
"It became clear to the district and our associated partners that we were facing escalating rental rates," Black said. Purchase of the new building was made possible by the Lakewood West Colfax Business Improvement District, with a loan from Lakewood-based 1stBank.
"We were also the recipients of impactful grants and donations to our fundraising campaign, including Community First Foundation, Gates Family Foundation, the Lakewood Economic Development Office plus a number of smaller private donations."
The new building is located in the core of development where infrastructure improvements will occur over the next few years.
"In three-to-five years that stretch of Colfax, from Sheridan Boulevard to Teller Street, is going to look dramatically different," Black said. "The city of Lakewood received a $10 million grant from the Colorado Department of Transportation for some major infrastructure improvements along Colfax Avenue, and the city matched that grant with an additional $2 million.
"For a number of years, we felt like one path to longevity and permanence for 40 West Arts District was through the purchase of a building. We are thrilled that we had the opportunity to purchase this building, which will create permanency and assurances that the arts district can continue to remain alive and well for the foreseeable future."
The old 40 West Arts building on Teller Street will now become the new home for the Chicano Humanities and Arts Council (CHAC). Their grand opening will coincide with 40 West's, on June 3. Another new gallery that's owned and operated by Samuel Flores (also on the 40 West Arts board of directors) will serve the Latinx community; that new gallery, Turnt' Up Galleria, is right around the corner from CHAC, next door to Pirate Contemporary Art. Turnt' Up Galleria will have its grand opening on June 3. The Teller Street building housed Benchmark Theater, and it will still share that space with CHAC, according to Black.
The 40 West Arts name is a nod to route 40, of which Colfax Avenue is a component. As one of the first U. S. Highways created in 1926, Route 40 has a long and storied history.
"Once a coast-to-coast highway that ran the entire length of the United States, it was really popular during the '40s up until the early '60s, when the automobile culture was a big thing," Black said.
The 40 West Arts District is directly responsible for the opening or relocation of more than 50 local businesses to Lakewood's stretch of West Colfax, including a number of local galleries, co-op spaces, coffee shops and restaurants, according to Black.
"I think folks see the glamorous side of arts districts – they think of First Fridays, drinking a glass of red wine while looking at an expensive painting on the wall.
"What's easy to forget about arts districts is that at our core, we're really service organizations. We exist to serve our local communities, and the way we happen to do that is through arts and creativity, but what's really at the core of our mission at 40 West Arts is to drive civic engagement, to drive public pride, to bring our local residents out of their houses and into public spaces, where they can connect with each other and learn about art and engage in artistic happenings; and to drive visitorship to the area so that our local businesses are served by increased economic activity in the area."
The next stages of the building will include outdoor renovation and landscaping, potentially an outdoor seating area, signage; and art installations, whether murals or sculptural elements.
Black wants folks to know that this new building is just one of many creative locations that make up the entirety of the arts district.
"Our vision is that folks will jump onto light rail from any location, even as far away as the airport, and head straight over to 40 West Arts District (Lamar Light Rail Station is two blocks away), to come see our building and to take in all the murals, the public art, and the other galleries and creative businesses that call 40 West Arts District home."
Learn more at 40WestArts.org or Facebook: @40westarts.