I hope you all had a peaceful and joyous holiday season! It's a New Year and if you're anything like me, it's great to get out to explore affordable activities with family and friends. One of my favorite towns is the quaint Manitou Springs. This unique historic city is dappled with unique shops, offers a rich history, and has eight natural mineral water springs scattered about the town – they are free! I love coordinating a scavenger hunt, letting kids lead the way to find the artistic fonts, and watching their faces as they taste the distinctive (and to some, stinky) healing waters. You can pick up sipping cups, a map, and a chart with the mineral make-ups of each spring from the visitor center (354 Manitou Ave.); also consider bringing water bottles to fill as you work your way from spring to spring.
The word Manitou means "great spirits," and for centuries the Native Americans that occupied the area revered the waters as sacred, with healing and spiritual benefits. Later, Victorians the world around flocked to experience the effervescent waters to supposedly treat tuberculosis, liver and kidney diseases, and most other ailments.
The 20,000 years old aquifers are located a mile below the surface, and are naturally filtered through the rocks' cracks and collect minerals such as iron, calcium, potassium (and lithium!), along the way. The effervescent qualities are inherited as the water erodes the limestone rock, creating carbonic acid. Each of the eight springs are showcased by uniquely designed fonts, via artists that were commissioned by the city. These are a few of the more interesting facts about these natural wonders:
1. Iron Spring Geyser – As the name denotes this spring is rich in iron with waters emitting from nearby Ruxton Creek. This mineral spring is known as the "Strongest of all tonics" and was once prescribed by physicians for people with iron deficiencies.
2. Seven Minute Spring – Carbonation in this spring causes it to erupt into a geyser every seven minutes. This spring is located under a gazebo in a small historic park that features a sculpture garden.
3. Shoshone Spring – Highest in calcium, manganese and zinc this font produces waters deep within the aquifer. This spring is thought to have high curative powers.
4. Navajo Spring – This spring has dried up but once was revered by Native Americans where they bathed the sick and injured. This font is located behind Patsy's Candies shop that serves up snacks and ice cream.
5. Cheyenne Spring – A sweet soda spring that is the highest in magnesium and potassium. This cast bronze sculptural font is located right on the sidewalk along Main Street.
6. Wheeler Spring – Spring named after Jerome B. Wheeler who was instrumental in designing Aspen and Manitou Springs as resort destinations. Waters produced in this spring are high in copper.
7. Stratton Spring – Located near the loop where trollies once turned around, this spring is just over 200 feet deep and is high in calcium.
8. Twin Springs – Waters in this spring once began as two springs which merged into one, and is rich in calcium, potassium and lithium. This spring is a local favorite with waters used to produce Manitou Lemonade and Mojitos!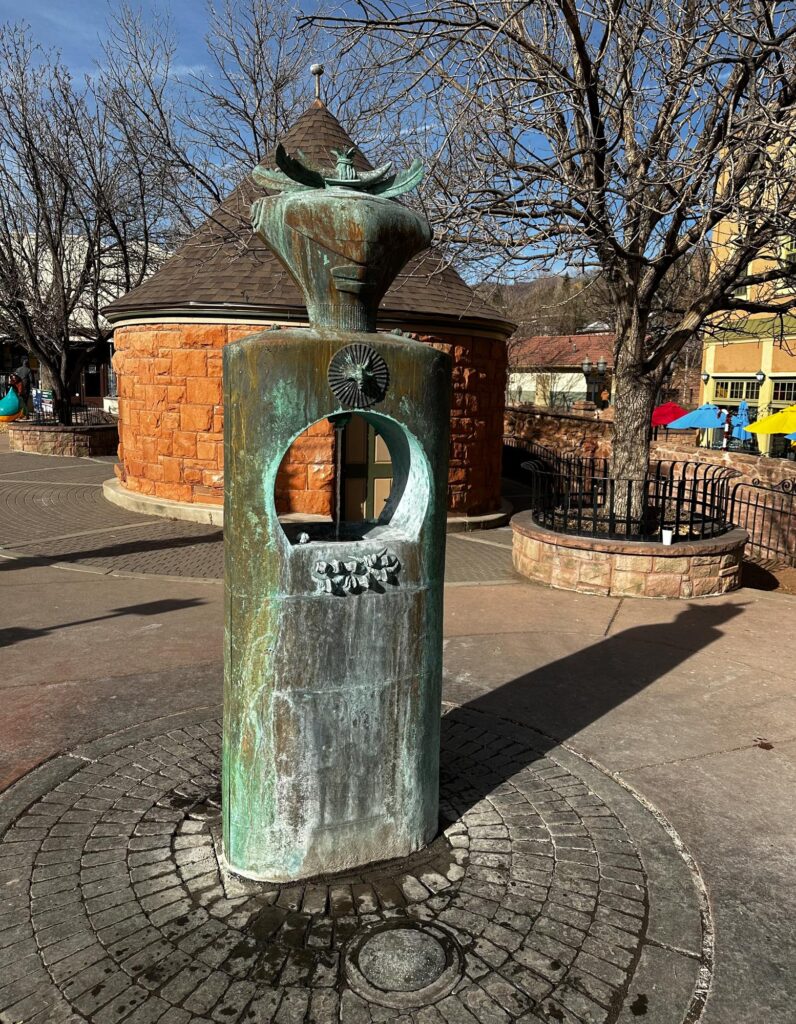 While adventuring in Manitou Springs, be certain to visit the Penny Arcade located on Main Street. It is a step back-in-time, and sure to delight people of all ages. The arcade, officially known as Arcade Amusements, Inc., was established in 1931 and features over 400 games from every decade ranging from the well-known, to obscure and rare. You can play vintage pinball and arcade games, fortune-telling and shooting games, and a well-worn horse racing game – all at their original prices. The oldest game is 100 years old, and costs just a penny.