Where Quality Auto once tuned up autos, Mestizo Brew Cantina (6800 W. 38th Ave., Wheat Ridge) is turning out Latin American tacos, tortas and small plate fare alongside house brews and cocktails.
The former garage is newly renovated, clean and well lit. The food is more than Mexican, drawing on Salvadoran, Ecuadorian and Argentinian cuisines, and tortillas and rolls are fresh, baked locally.
Pick a table, grab a menu and order at the bar. My wife said it reminded her of mom-and-pop, off-the-tourist-path taco joints in Cabo San Lucas.
Botanas (small plates) got our attention, and include pupusa, a Salvadoran thick corn tortilla stuffed with cheese, grilled and topped with slaw and salsa, filled with either spinach and cheese, or black beans and cheese; and llapingachos, Ecuadorian potato and cheese corn cakes topped with red onion escabeche, slaw and salsa. They fry up chips in-house, too, served with a trio of salsas.
Tortas (sandwiches), served on fresh, locally baked pan bolillo, were worth a second visit. My choice: pepito de arrachera, grilled skirt steak, Argentine chimichurri, sliced tomato, spinach, avocado and red onion escabeche.
Tacos are served a la carte on small-batch corn tortillas from an Aurora tortilleria. Wife's choices: a vegetarian al jardin, roasted poblano and calabaza (Mexican zucchini), refried beans, Mexican rice, escabeche, queso fresco, avocado and salsa; and carnitas, Mexican-style braised pork, queso asado, cilantro, onion and salsa.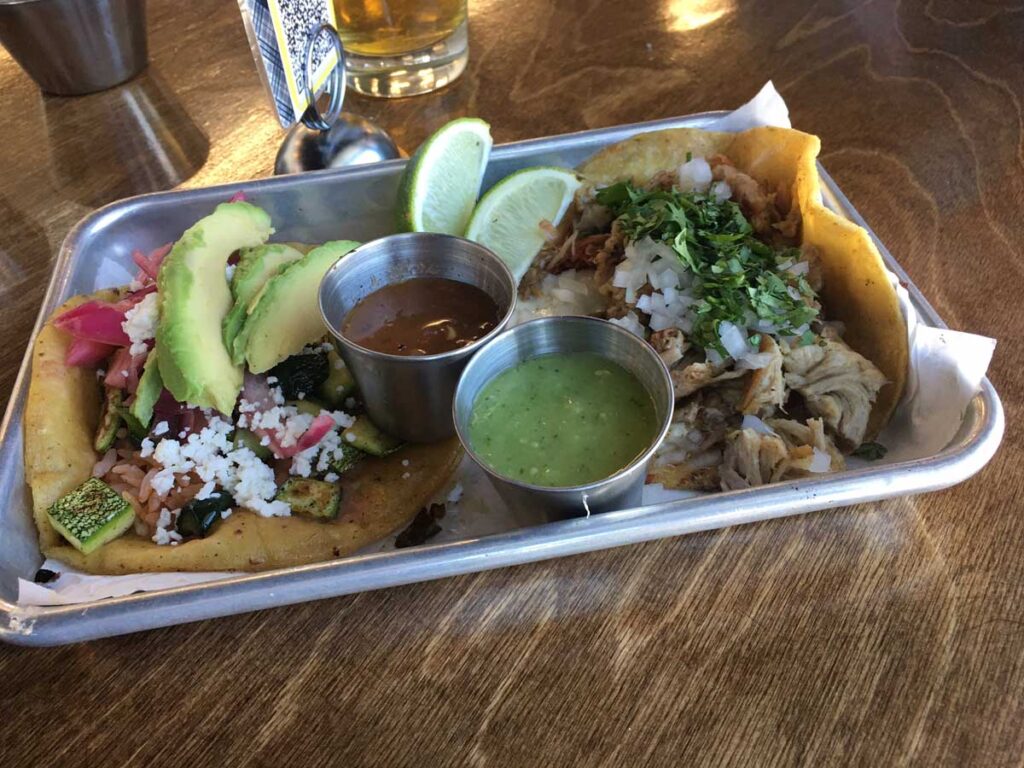 On our visit they had four house-brewed beers on tap, but more are promised. Our seal of approval went on Mestizo (Mexican) lager and Wit Ridge (Belgian wheat beer brewed with lemon zest and coriander). Mestizo does not offer flights, but they'll pour you a small sample to aid in choosing.
It's open Tuesday through Sunday, noon to 9 p.m. (10 p.m. Friday and Saturday). Info: 303-593-2262, mestizobrewcantina.com or Facebook.