Daunte Limon, junior at Wheat Ridge High School, is many things: a 3.61 GPA, a cross-country runner, a linebacker, a member of the National Honor Society, and quite possibly the best wrestler to ever walk through the school's hallways, when all is said and done.
Head Wrestling Coach David Osse said so, and combined with Limon's underclassman accolades and stats, there's a pretty good case for it, at least so far. As a freshman in 2020, Limon posted a 41-8 record, was a state qualifier, a first team all-conference selection, and was named the Jefferson County 4A Wrestler of the Year after a fourth-place finish at regionals. His sophomore season (shortened due to COVID-19), Limon went 19-4, posted first team all-conference again, qualified for state again, and finished second at regionals.
Though his numbers are impressive, it's what doesn't show up on the scoresheet that separates Limon from others, Osse said.
"He's definitely a unique kid. Coming in, even as a freshman, you could just tell right away. His parents have done an amazing job raising him and giving him a great foundation to proceed into life on," Osse said. "He's just one of those kids that goes beyond just taking care of himself and beyond going through the motions of whatever sport he's participating in."
Now as an upperclassman, Limon is a team captain. He's focused on bringing home some hardware at state. He's inching closer each year, and the term "state qualifier" isn't quite enough anymore, Osse said.
Last season was a frustrating one, riddled with COVID-19 cancellations and stop-and-go each week. Limon got to participate in less than half of his normal competitions, so he's hungry to get back to it this season. So far, he's sitting at 25-3, and having seen the state competitions more than once, he's eager to make his mark among the best; not just at the state championships, but in the Wheat Ridge history books.
"This is my 22nd year at Wheat Ridge. In those 22 years, he's only the second qualifier for state that we've had as a freshman, and he's now qualified both of his first two years at school. And we anticipate if everything goes right, he should be a third-timer this year," Osse said. "It's been, I think, 13 years since (a freshman last qualified)."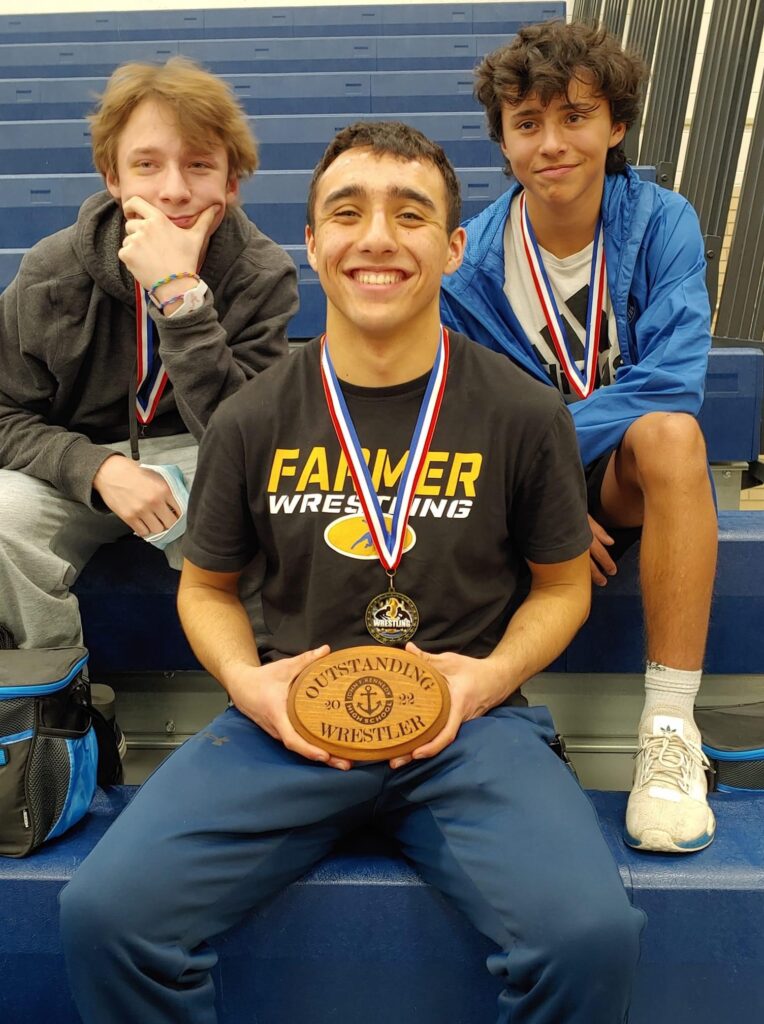 The last time was by Wheat Ridge wrestling legend Nick Swanson, a 2012 grad, a four-time qualifier and two-time state champion for the Farmers. Swanson is now an assistant coach at the school under Osse, with Limon biting at his long-standing records.
But wrestling isn't Limon's only sport. He's an avid cross-country runner for WRHS, and Osse said the football team was short on players this year, so Limon gave it a shot, often juggling both cross-country and football on the same day.
"He actually did them both at the same time. So he would go and run a cross-country race, and then drive over and typically be at a football game by halftime. And he'd hop out and play when he was asked to in the second half of a football game. And he loved it," Osse said.
Other than building on his wrestling legacy, Limon plans to enlist in the United States Military Academy at West Point upon graduation.
Q&A With Daunte Limon
Now that you're an upperclassman, what are some goals still on your to-do list?
For now I'm still trying to work on improving myself in any way I can. The past two previous years, I've made it to state but I have not placed, so in these next couple years I hope to make it to that podium.
What about wrestling in particular has always been special for you?
I just kind of like the physicality of it. I've done it my whole life and it's just been a joy to me to be in that environment, and the way the sport is played is fun to me. I like that it's just me versus somebody else.
How has Wheat Ridge turned you into the wrestler you are today?
It's pretty exciting. We've got quite a few new wrestlers so they're excited to learn and get out there and get some wins since they're new. So that energy kind of drives me and makes me want to improve myself more because they're trying to prove themselves.
Do you congratulate yourself for your wins, or do you expect the accolades after your hard work?
I kind of give myself a little pat on the back, because it's amazing to me that I've done these accomplishments and I get the opportunity to do this. But also I'm a little hard on myself to prove more, try to get better and do better.
Why West Point after high school?
My family is a military family. My father was in the military. My grandparents were in the military. So it's kind of been a passion of mine to be in the army. And then when I found out I can have an education with the army, it was a win-win for me, knowing that I could join and graduate with a higher rank and get my education for something that I want. It sounds pretty amazing to me. I can wrestle in the army as well.