"Whenever I walk into my studio, wherever it might be, I bring all of my past into it," said Wheat Ridge Art League member Judy Miranda. With photographs and paintings beautifying most of her wall space, that statement comes to life when touring her home.
During a recent visit to Miranda's home studio, this writer found her applying gesso to a small, heart-shaped plywood blank. When finished, the art-enhanced heart will become a fundraising donation for the Chicano Humanities and Arts Council, or CHAC (pronounced "chalk").
"I've been with CHAC for 30 years," Miranda said. "Every year they have a fundraiser, this year called Miracles of the Heart. They provide these heart blanks for members, and we decorate them with our art and donate them for the fundraiser." (According to the CHAC website, www.chacgallery.org, the fundraising event has been postponed until April or May.)
Miranda is a prolific artist. Having begun her career in photography, then emphasizing painting 20 years ago, she has been represented in numerous publications and has participated in more than 300 exhibitions across the country since 1975. She was in 13 shows in 2021, the most recent at Museum of Contemporary Art Cleveland.
"I was in a group show that traveled to eight major galleries over a three-year period, from New York to Los Angeles. When the Cleveland museum heard I was a 'santera' – a saint-maker – and offered an all-expenses paid slot, I said, 'Count me in!'"
Miranda carves her saint designs, retablos, into wood and paints them with acrylic paint. Along with several of her saint pieces, a wall in a short hallway exhibits many of her friends' carved saints that she obtained "before they got famous."
A retablo is typically a devotional painting – "a saint on a board," she said. "After doing retablos of saints who were martyred and killed and beheaded, I decided to make up saints of my own."
She pointed out one of her creations, "Our Lady of the Rosary."
"This was when masks were first being required in 2020 – I did the tin work and found parts at a second-hand store. This (she points out another, "The Trinity"), I did for a woodcarving show at The Fort restaurant. It sits on an old mirror stand."
She has carved many saints – the Native American Corn Mother, among others.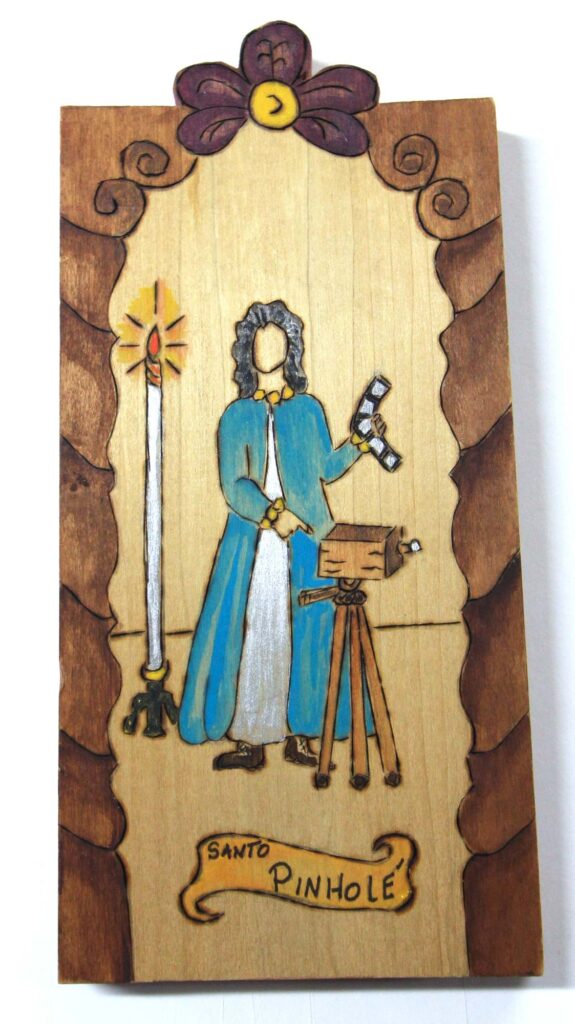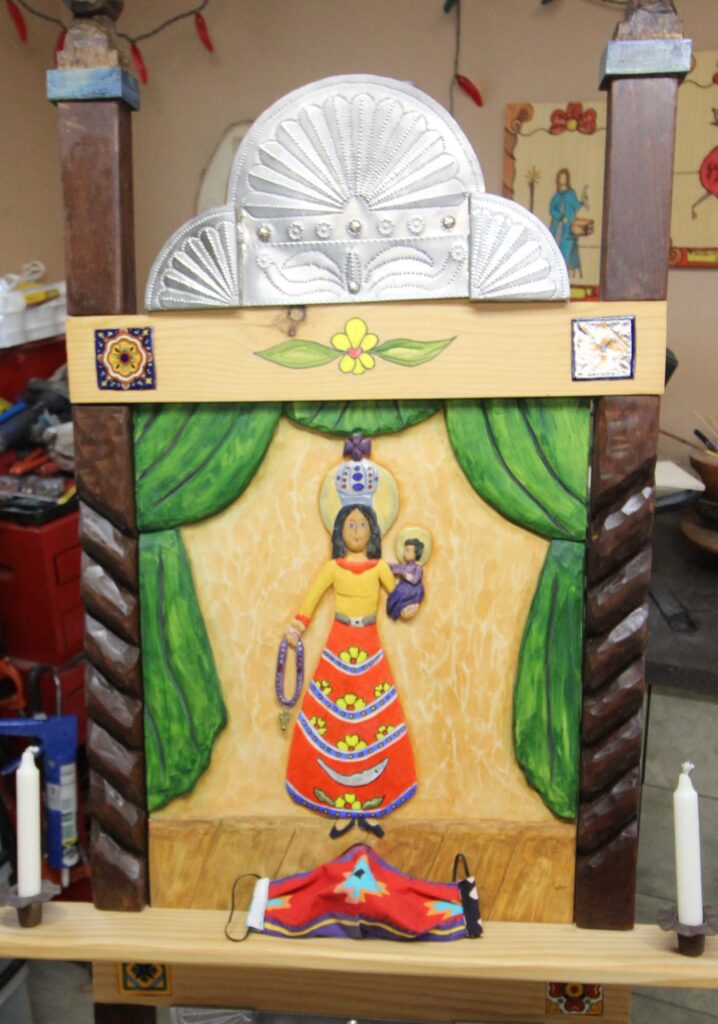 "It takes time to carve these puppies out. I have a huge one in the garage that took a year!"
Miranda learned to carve from elders in New Mexico, and weavers taught her about dyes and colors.
"I was always attracted to their stories – they were almost like Greek tragedies." Over time, she wanted to make up her own stories – "happy stories, funny stories." In her studio, one carved figure holding a pinhole camera is titled "Santo Pinholé" (Pin-ho-ly), whose tendency is to alter the negative into positive."
A tour of her home revealed walls filled with works of her own and paintings and photographs by people she's met through the years she's been associated with the arts. A free-standing rack displays her artwork in the form of affordable cards and small prints. She loves doing tile work; colorful tiles were set into each riser of the stairs leading to the second floor of her home, and she designed and laid the tilework in her kitchen and bathroom.
"I'm a California girl," Miranda said. "I graduated with a bachelors in Radio and TV from Cal State Long Beach in 1974 and completed a masters in 1978."
She had not been encouraged to seek higher education ("Why waste your money?" her grandmother would say). A single mother with two daughters to raise, she needed to make a living.
"I couldn't get a credit card, couldn't buy a home, couldn't sign for a loan."
One day, she came across an enlarger at a flea market and asked what it was for. The seller told her it enlarges photographs. She paid $20 and talked the man into teaching her how to use it.
"And that's how I started making a living. I actually learned backward. I learned darkroom first. Everybody has a negative somewhere, and they asked me to make enlargements. Everything was set up in the bathroom. At night I'd put the toilet seat down, set up the enlarger, turn off the light and tell my kids, 'Don't open the door!'"
She bought an inexpensive Yashica camera and started taking pictures, discovering a talent she didn't know existed. After taking a class, she wound up teaching it. The instructor told her she'd made every possible mistake, so she was qualified to teach.
"I bring all my cultural influences into my art. My mother was a Mexican illegal, my father fled the persecution of the Jews – he had the tats on his hands. They met in East L.A. and had me, what they called an anchor baby, and they wanted me to be a perfect American, whatever they thought that was. Mom raised her kids as Jews. Mom and dad divorced but remained friends – she married a Latino, he married a Jewish lady.
"So, you see, I bring all those experiences with me, an entourage of images, textures, colors and stories ready to exist within the realm of my art. I've never had any formal art training, but I've been blessed with many people who have guided me and taught me about life, and I put life in my images."
For more information on Judy Miranda, visit: fotojudy.com/artist.htm