As each evening begins to stay lighter a bit longer, we have more time to enjoy activities outside – such an encouraging thought that springtime is right around the corner! Idaho Springs often gets overlooked by those seeking the larger resorts west of the Continental Divide, however Idaho Springs can be a fun option that yields a quick and affordable escape in a picturesque mountain setting.
My daughter was home from college during the winter break, and created a small list of winter activities to do before heading back to the warmth and humidity of Mississippi. Short on time and having a limited budget, we grabbed her brother and headed up to Idaho Springs for a one-of-a-kind Colorado adventure.
Our first destination was the Echo Mountain Ski Resort, just an hour away and boasts to be "Denver's closest, most affordable ski, snowboard, and tubing area." Echo Mountain originally opened in 1960 as Squaw Pass Ski Area, and closed a few years after the opening of the Eisenhower Tunnel. It re-opened in 2005 as a terrain park, closed, then became a private ski racing center in 2012. In 2016 it was available again to the public, with a six-lane tubing hill and a renovated lodge. The Brother's Grilles restaurant occupies the newly renovated kitchen that serves up delicious burgers, sandwiches, soups and salads, as well as a full bar.
Echo Mountain consists of intermediate and beginner areas for those still learning, or those looking for a bit of a refresher. The tubing hill includes six runs and a "magic carpet" conveyor that conveniently swooshes you to the top of the hill for the next ride. The tubing area has music piped in, so you can enjoy the tunes as you fly down the mountain. We could not get enough of the awe-inspiring views of the Continental Divide from the top! Echo Mountain is currently open for night skiing and tubing, so be sure to make reservations online in advance to your arrival. Echo Mountain also offers rentals, so check online to ensure they have what you need.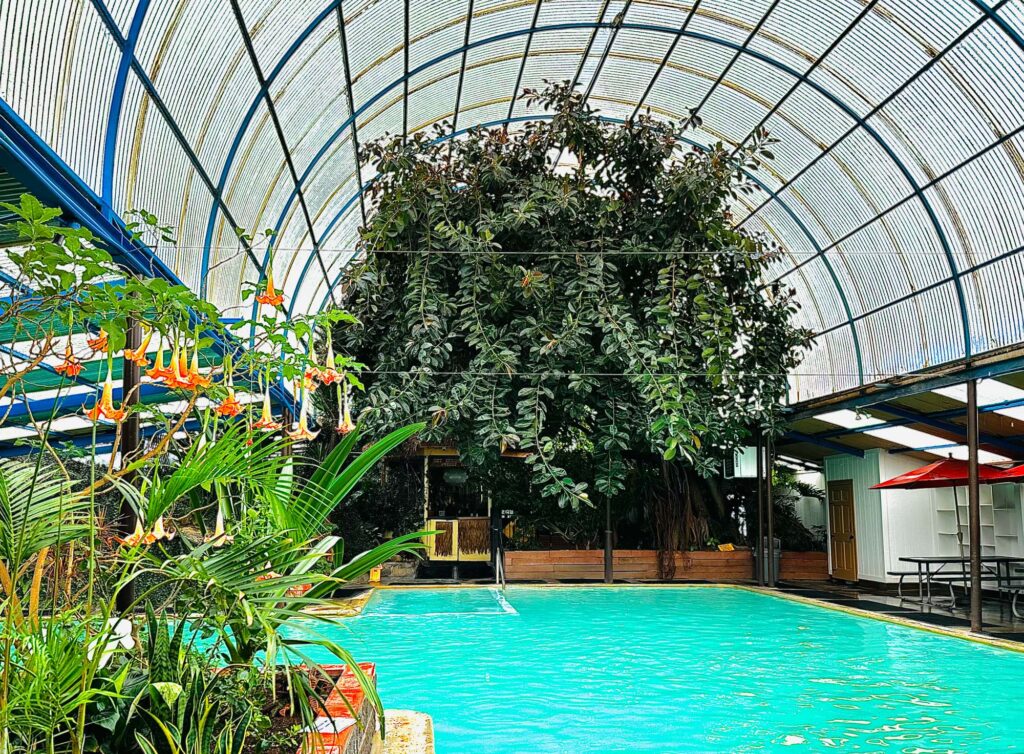 After a long day of playing in the snow there is nothing quite like relaxing and soaking in hot mineral springs. For this, we headed to Indian Hot Springs, located just south of I-70 on Soda Spring Road (which was once the dividing line for Ute and Arapaho nations).
The Indian Hot Springs are rooted with deep history. The mineral rich waters were known by Native Americans as the "healing waters of the Great Spirit," and a neutral meeting site for the Arapahoe and Utes. The Springs were purchased by E.M. Cummings, who charged the public to use the springs, then were later sold to Harrison Montague, who developed the springs and called the health resort "Saratoga of the Rockies." Montague also built the gazebo that still stands in the pool area. The healing waters of the springs have been visited by the Roosevelts, Vanderbilts, Walt Whitman, Billy the Kid, Jesse James, Clint Eastwood and John Denver.
Upon your visit, you have several options to choose – a tropical inspired swimming pool, geothermal caves, private Roman-style baths, outdoor Jacuzzis, and Club Mud (a DIY mud bath). The main swimming pool is surrounded by hundreds of lush tropical plants, that are lovingly maintained by the staff botanist. The waters in the swimming pool average between 90 and 100 degrees, and are suitable for families and individuals of all ages. If you are looking for a private retreat to melt away the worries of the world, opt for either the private outdoor Jacuzzis or one of the 11 indoor private Roman-style baths (both require reservations). The geothermal caves are more like hot saunas, with the pools' temperatures varying (between 108 and 112 degrees). The caves are quiet areas and are perfect for those seeking peaceful respite from busy life schedules. Indian Hot Springs resort also offers lodging accommodations as well as a day spa offering a variety of specialized treatments for those looking to be pampered.
Idaho Springs is a quaint town with many gems for those looking for a quick relaxing getaway. Be sure to visit the local restaurants and quaint shops while in town. My daughter got her wish of getting up to the mountains for a winter adventure before heading back to college, and my son was all smiles. I hope you all are savoring winter and are out and about exploring!
For more information:
Indian Hot Springs, 302 Soda Creek Rd., Idaho Springs, CO 80452; 303-989–6666, www.indianhotsprings.com
Echo Mountain Resort, 19285 Hwy. 103, Idaho Springs, CO 80452; info@echomntn.com, www.echomntn.com