"I recalled the places I had seen with my mother when I was a little boy – the mountaintop Buddhist retreats. There in the Colorado mountains, I tried to listen to the silence again – just as my mother had taught me. The investigation of the place became a kind of religious experience for me." – I. M. Pei
Immersed in the stunning natural beauty at the foothills of the Rocky Mountains, the National Center for Atmospheric Research (NCAR) in Boulder, offers a blend of cutting-edge scientific education and breathtaking outdoor hiking opportunities. NCAR will surely delight science, weather, architecture enthusiasts and those who have a love for hiking.
Upon your arrival at NCAR, you'll be captivated by the striking geometric shapes and sleek lines of NCAR's edifice harmoniously juxtaposed against the backdrop of the Flatirons in the forested foothills of Boulder. Visionary architect I.M. Pei designed Mesa Laboratory at NCAR. Pei is recognized for merging modern aesthetics with the natural world. His creativity and genius are evident in the iconic designs of the cultural landmark of the Louvre Pyramid in Paris and the East Building of the National Gallery in Washington, D.C. As you walk around the campus at NCAR, notice the brush-hammered detail and the pinkish-red color of the concrete, which Pei drew inspiration from the Mesa Verde cliff dwellings near Durango. Also, note how Pei's design elements frame the landscape and sky of the surrounding area of Boulder.
Once you enter NCAR, you will see science come to life with large hallways of interactive exhibits that explain weather phenomena, climate change and solar-terrestrial physics, making the complex world of atmospheric research engaging for all ages. NCAR is a crucial science laboratory, housing state-of-the-art facilities for scientists to study weather patterns, climate change and other weather phenomena. Founded in 1960 by esteemed American astronomer and atmospheric physicist Walter Orr Roberts, NCAR is the leading research facility known globally for contributions to climate science, atmospheric phenomena, and Earth systems.
NCAR Trailhead is a gateway to breathtaking hiking trails, allowing visitors to experience Boulder's natural beauty firsthand. The trailhead, behind NCAR, features 18 hikes that range from 0.4 to 10.2 miles, with elevation gains from 75 to 3,520 feet. You'll be certain to find the perfect hike for your next adventure.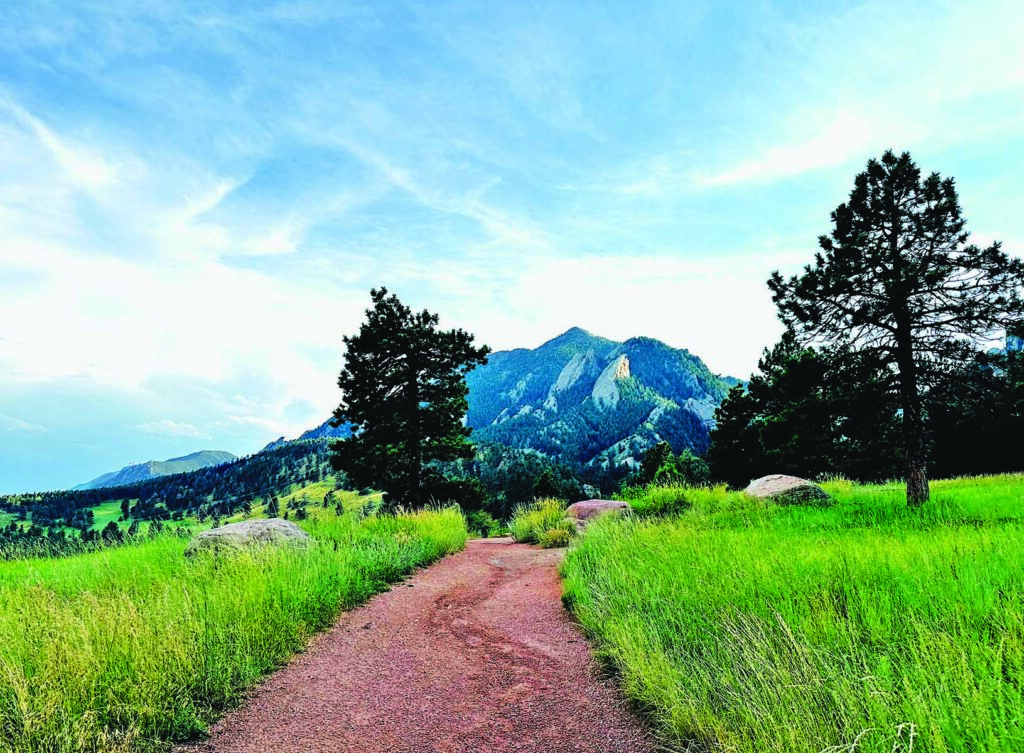 The Walter Orr Roberts Weather Trail, named after NCAR's founding director, is a gentle 0.4-mile loop, perfect for families and beginners, and features several interpretive boards about the local ecosystem, weather, and climate along the way.
For those seeking a slightly more challenging hike, the Table Mesa Trail is a must. This 3.2-mile round trip takes you through various environments, from rolling grasslands to ponderosa pine forests. Your reward for reaching the top is an awe-inspiring view of Boulder. Be sure to keep an eye out for wildlife – it's not uncommon to spot mule deer, foxes and an array of bird species along the way.
Adventure enthusiasts can continue along the Mesa Trail to the Bear Canyon Trail and Bear Peak, an invigorating 8.4-mile round trip that offers stunning 360-degree views at the summit. It's a challenging trail with steep sections, but the payoff is truly spectacular. Remember to pack plenty of water and snacks and be prepared for sudden changes in the weather.
NCAR presents an experience quite unlike any other. Whether you're a weather and science buff, an architecture enthusiast, an avid hiker, or simply someone who appreciates the profound beauty of the Colorado landscape, NCAR offers a unique and rewarding experience for all ages. It's a place where you can delve into the mysteries of our planet's atmosphere, hike across stunning trails that trace the foothills of the Rockies, and soak in the serene beauty of the natural world.
NCAR is open to the public and free of charge, 9 a.m. to 4 p.m. Saturday and Sunday, and 8 a.m. to 5 p.m. Monday through Friday. Be sure to stop by the Mesa Lab Café for breakfast or lunch (weekdays) to fuel up before or after hitting the trails.
Find more information on NCAR at https://scied.ucar.edu/. For information on trails and trail conditions at NCAR, check out All Trails at https://www.alltrails.com/.