Situated in the heart of Wheat Ridge at 44th and Jellison is the Swiss Flower and Gift Cottage. At this corner you will find the modern building with the larger than life blue bird mural that is the new and improved shop. This building replaced the smaller unit that served the business for nearly 50 years.
Heidi Haas Sheard was just 3 when her parents, Jim and Marta Haas, decided to leave Wisconsin and make Wheat Ridge their home. They came to Colorado on vacation. Marta is from Switzerland and the landscape of Colorado felt like home to her. The couple ended up asking around at the greenhouses in the area if there was anything in the flower business for sale.
They learned that there was a flower shop, greenhouse and home for sale all in one property. The couple returned to Wisconsin and put things in motion to buy the property a year later in 1970.
Heidi, her two sisters and brother grew up in the small house just behind the original store. Heidi has many fond memories of time spent in the greenhouse picking leaves for corsages, going on deliveries with dad and pretending that the area behind the home was their own personal Gilligan's Island.
32 years ago Heidi decided to purchase the property from her sister. She loves doing business in Wheat Ridge because, "It is truly my home. It is my roots, it is my history, it is my identity." As Heidi puts it, "The success of the business lies in being passionate and a workaholic. But also in having a vision and the family and employees to support you in that dream."
According to Steve Art of the Wheat Ridge Urban Renewal Authority, "Tax Increment Financing (TIF) from the city of Wheat Ridge was a key element in making the new space into what it is today. The program allows the property tax generated by that particular site to be used to move forward and flow back into the Wheat Ridge community itself. It is money used to benefit Wheat Ridge, its businesses and its citizens."
Swiss Flower and Gift Cottage is taking full advantage of the program to keep the tax revenues of the business close to home.
As much as the property has changed over the years, Heidi would love to see the land go back a bit in time to be able to grow some of the plants she incorporates in her designs like they did in the beginning.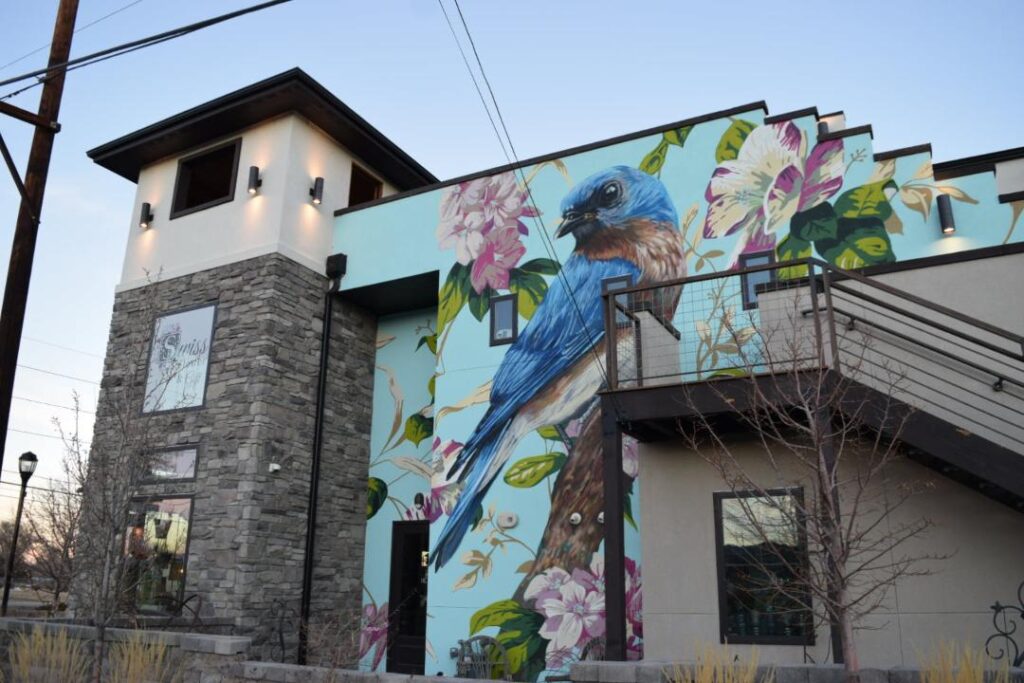 "I have lots of ideas, but just not enough time!"
She is hopeful that she can continue to take advantage of some of the civil programs available to small businesses like hers to continue to change and improve her property.
"What was once a greenhouse and flower shop, has turned, over the years, into fabulous 6,000 square feet of retail therapy. Having the fresh flowers, the home decor, gifts, we do high tea by reservation… there isn't anything like this." Heidi goes on to say that, "This isn't just a flower shop. It is more of an experience to come here."
When customers come from other parts of the metro area, they are quick to say, "Oh I wish this was down south," or "Too bad you aren't closer." Heidi doesn't let that fall on deaf ears and gently reminds them just how easy it is to get to the shop. Situated near 44th and Kipling, "There are so many ways to come here whether you shoot up the highway through the city or take side streets, we are in a great location for anyone in the metro area. And it is always worth the trip."
The shop offers many services as well as a unique array of products to delight anyone's taste.
"We have cards, we have garden art… There's just about anything you can imagine in the shop. Whatever makes you happy, it is here."
Heidi and her team will design a custom gift basket, bouquet or centerpiece for that next special occasion and will even deliver those items.
The staff at the shop is just as passionate about the business as Heidi.
"We all just get so excited about a sale, it is just such a rush."
Erin is the most tenured of the staff.
"She has been with me for about 24 years. That says quite a bit especially in today's job market."
Heidi's dad still does his part at the store in being one of the delivery drivers. And Russ, Heidi's husband, enjoys lending his talents in creating the artistry puzzles for the store. They are made in the old shop building next door.
"What truly excites me is the high of the hunt, finding items that you love and then to see that the customer loves them, too. All of us here just love the thrill of selling our items."
Heidi likes to see and do things differently.
"Diversity is my passion."
"The new building is a dream come true for sure," says Heidi. "Customers are loving it. I am honored to be a business on 44th that has been in existence for over 50 years."
She invites you to come visit anytime. It is the only way to really be a part of the truly unique experience of shopping at this locally owned and operated gem.