"As a little girl, I was always drawing. I had a love for crayons," says Mona Taherynia, an artist who was born and raised in Iran and moved to the United States when she was in her 30s.
Taherynia's Iranian culture informs her paintings, "in terms of form and color," yet her paintings also bear the influences of Georgia O'Keefe and Vincent Van Gogh. She is inspired by Persian art, poetry and tilework and uses a lot of cobalt, ultramarine blue, gold and warm oranges in her work. She says that many mosque domes are blue, to symbolize the sky and heaven.
"I always wanted to be doing something with my hands – that makes me happy," Taherynia says. "My mom was born in a part of Iran where she learned to weave Persian carpets and rugs, and she had a workshop in her basement with two looms, where she taught girls how to weave. Learning this was a must for girls, no matter if rich or poor – it's a skill as important as reading and writing."
She pointed out a rug that she and her mother made together, when she was in 6th grade.
As a child, a sibling architect who made models and prototypes inspired her to build toys for herself and furniture for her dolls. This eventually led her to attend Alzahra University, an all-girl's school [known as Farah Pahlavi University before the 1979 revolution], where she earned a bachelor's degree in industrial design.
"That was always my passion when I was growing up," Taherynia said.
"While studying industrial design, I became obsessed with recycling, sustainability and being environmentally friendly. The fact that I had to find a company to dispose of the solvent used in oil painting was killing me. When I started painting with oils in Iran, everything was smelly and I had to wear a mask.
"When I came to this country, I learned that they make oils with less smell, but you still have to be careful how you dump the solvent. And then somebody told me, 'Why don't you try acrylic? It's water-soluble and not that dangerous.'
"Painting is kind of like poetry in colors," she says. "You can bring whatever is going on in your mind into it. I'm attracted more than anything to the acrylic medium. It gives me the flexibility and application similar to oils but without the messiness."
Taherynia arrived in the States in 2003 and lived in Boston for a year and a half. She then moved to Denver, where her sister, brother-in-law and parents have lived since the 1990s.
"When I was in Iran, I would sometimes have a nightmare that there was a massive ocean between me and my loved ones, and if anything happened, there would be no way I could get to them. I realized it didn't make sense to live away from my family."
When she got to Colorado, however, she couldn't find a job in her major.
"As a kid, I was obsessed with cutting my dolls' hair and putting braids in their hair. My sister told me that maybe the universe is telling me to go to cosmetology school, so I did and got my license."
It was supposed to be a temporary thing, but now she operates her own studio in Arvada at 77th and Wadsworth and works full time.
"I love hair styling because it is very artistic," she says. "A person's hair is a canvas in my hands. The look on my clients' faces when they see themselves in the mirror is so rewarding, it means the world to me. That's my job and painting is my hobby now."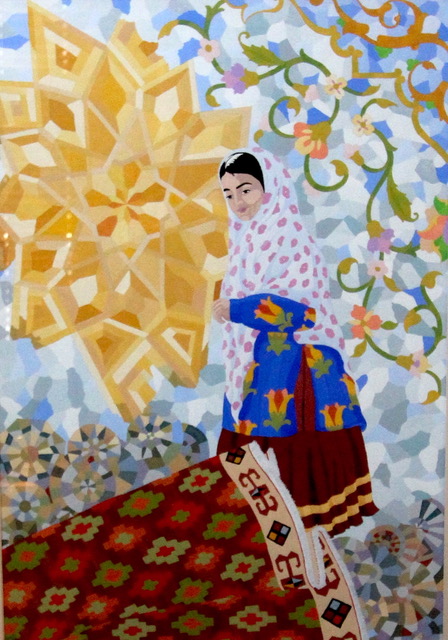 In 2015, Taherynia was talking with one of her clients and discovered she was an artist. Her client invited her to be her guest at an art meeting, which turned out to be the Wheat Ridge Art League.
"The art league is a great influence on my life," she says. Taherynia is an active member.
Her artistic abilities extend to playing a drum called a daff, which is similar to an Irish bodhrán, and to singing (she received training as a Persian classical vocalist). In 2021, she sang Braham's Requiem and last year the Mozart Requiem, with the St. Martin's Chamber Choir at St. Andrew's Episcopal Church in downtown Denver.
"It was a great honor to sing with them," Taherynia said.
She also took training in Persian calligraphy and uses those elements in her paintings to convey messages of love, peace and calm.
"I play with them as abstract elements. For non-Persians, I want to create visual beauty as abstract art. Many social and cultural things inspire me."
When she paints calligraphy – the poems in her work – she feels they are like a meditation or a prayer, and says she is sometimes taken to another sphere or dimension while she's painting.
"People might think of them as abstract painting, but they are part of a poem that translates as, 'There is nothing more pleasant in the world, or under the blue sky, than the sound of the music of love.' Peace and love is all that matters in this world."
Some of Mona Taherynia's artwork may be seen on Instagram: @monataherynia. Look for her booth at the Carnation Festival art show this summer.