"I'm a materialist," says Wheat Ridge furniture maker Dustin Brucher. "When I'm creating, I give an eye to what might be commercially viable and what might be specified by a commissioned client. But if I'm making something just for me, I'm going to make it the way I think looks fantastic, that captures the right proportions, and, at the end of the day, does what I want it to do."
Without a formal education in industrial design or aesthetics, Brucher undertook the project of remodeling the house he shares with his wife and two young children. During that five-year project ("so far"), he has equipped himself and learned how to replace or repair cabinets, shelves and countertops.
"I really didn't have an interest or a passion for woodworking until we bought this older home," Brucher says. "I'm self-taught, and there have been a lot of screw-ups, a lot of projects that took five times longer than they might have. But I've been able [to learn] on my time, at my own pace and on my budget. I've learned how to flush-trim things and get laminate onto MDF and install everything into not very square recesses – as I have learned – of this older home.
"Part of how I got into this was trying to save money in equipment acquisition, so I've gotten pretty good at fixing up old machines. I get the thrill of restoring them to at least decent usability, if not museum quality."
In addition to vintage hand planes, a restored 1950s-era Delta drill press and a Delta 8-inch jointer, his shop is replete with all the hand tools and machines needed to build his new and restoration projects.
"I get to use machines from the bygone era of when things were made of American steel.
An "Army brat," Brucher lived in California, Germany, Colorado Springs, Missouri and Wisconsin, where he graduated from high school. He attended law school in Vermont, and lived in North Carolina, where he ran a solo, and "unfulfilling," attorney practice, specializing in energy regulation.
"We took a road trip to Colorado. My wife had gotten an internship here in urban planning. She had a contact with a recruiter at the electricians' union and made the suggestion that I consider a new direction."
As an electrician, "I would go bend pipe and pull wire and make lights turn on at work. I loved doing that work, but I really needed more flexibility. It wasn't enough to scratch that itch. I had sketch books full of ideas for things I hadn't gotten the chance to try out. I just wanted to keep doing the remodeling."
He left the electrician job after discussing with his wife how to make work life easier and to maximize time with their kids. He said that leaving that job "was tricky, needing to be up at four in the morning to be on job sites such as in the mountains or Fort Morgan.
"I'd focused on our home for about five years, and we thought, 'maybe it's time to give [our own business] a shot.'"
Brucher's time and effort has paid off. In addition to work on his house, he exhibited at Denver Modernism Week in August, and he has three pieces at Modmood Mid-century Modern Furnishings, at 44th and Zephyr. He's about to start a restoration project for a client – a dining table from the 1960s that is similar in style to Danish or Mid-Century Modern, which is his favorite era.
"That's what I shoot for," he says, regarding his own designs.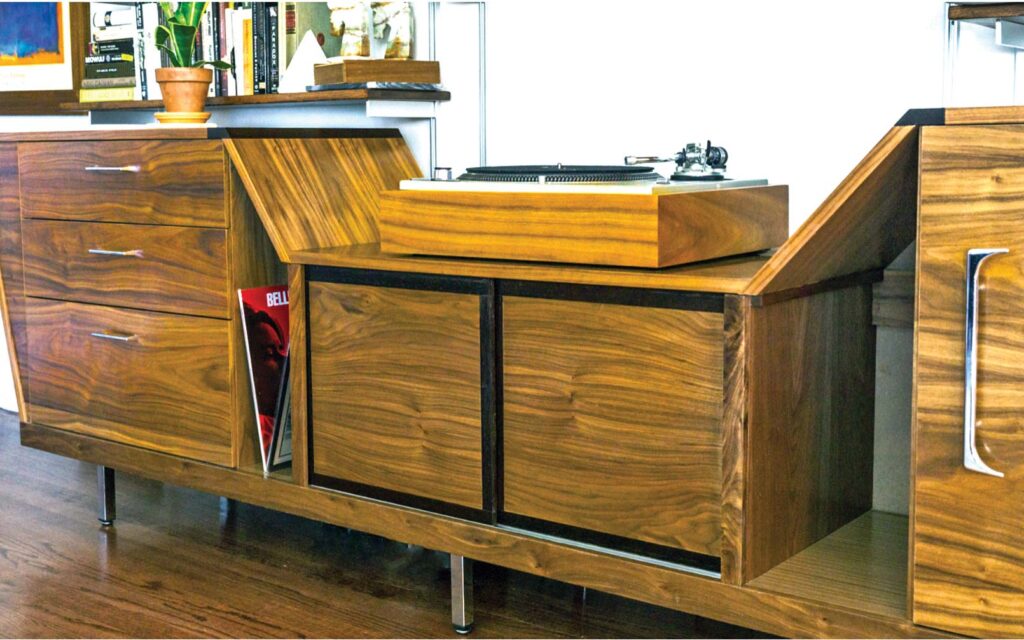 "Sometimes ideas are triggered by something unusual that I've seen before, but I try to have everything designed by me. That process might begin in a sketchbook or on the back of a napkin, and then that goes into a program I like to use called Fusion 360, for 3-D rendering; from there, I can reproduce or scale it. It allows me to draw piece by piece in 3-D [and then build it]."
The furniture he designs and builds is reminiscent either of the 1950s and 1960s industrial aesthetic, or American or Danish Mid-century Modern designs.
Brucher prefers to use materials that are of the period, but many exotic woods are difficult to obtain. "The political climate, I would say, has rightly evolved toward not over-harvesting woods such as rosewood and ebony. There's been a ban or severe restriction on Burmese teak since the early 2000s."
Since taking the leap to his own business, he's developed a portfolio of his work (see: panelboardshop.com) and focused on getting ideas out of his head and into reality.
"Commissions are starting to flow, and I feel like I'm picking up a little bit of steam."
His inspiration to pursue this career direction came, in part, from the book "Shop Class as Soulcraft."
"It is ennobling of the type of work that allows you to step back and see the results of your efforts, the fruits of your labor.
"I appreciate art and fine art, but if it's something I can use, put my hands on, manipulate, for me that is a more rewarding experience.