"Don't back away from the wall
We together break the wall…
Your legs hesitated but again
Start, don't stop
Don't be afraid
Don't lose your faith, run no more."
–Lyrics from the song "Break the Wall," by Korean band Dreamcatcher
Digital artist Chase Seyfer was inspired by this song to write a multilayered story that she is developing into a video game.
"'Break the Wall' is about resistance and breaking down the wall that's holding you back," says Seyfer. "You've protected the wall until now but you've realized it's a hindrance so you must break it down."
Seyfer, 18, was born in Wheat Ridge and graduated from Wheat Ridge High School May 19. She plans to attend the Rocky Mountain College of Art and Design in Denver.
"I'm choosing RMCAD's Game Art program so I can learn how to produce video games, including my original story," said Seyfer. "You can make lots of money in game art but the field is competitive and jobs are tight. You need to have connections or be awfully good."
"Break the World" is the story Seyfer began writing last year and hopes to turn into a video game. It is set in Japan and concerns both normal people and Supernaturals, who can control the Earth's elements.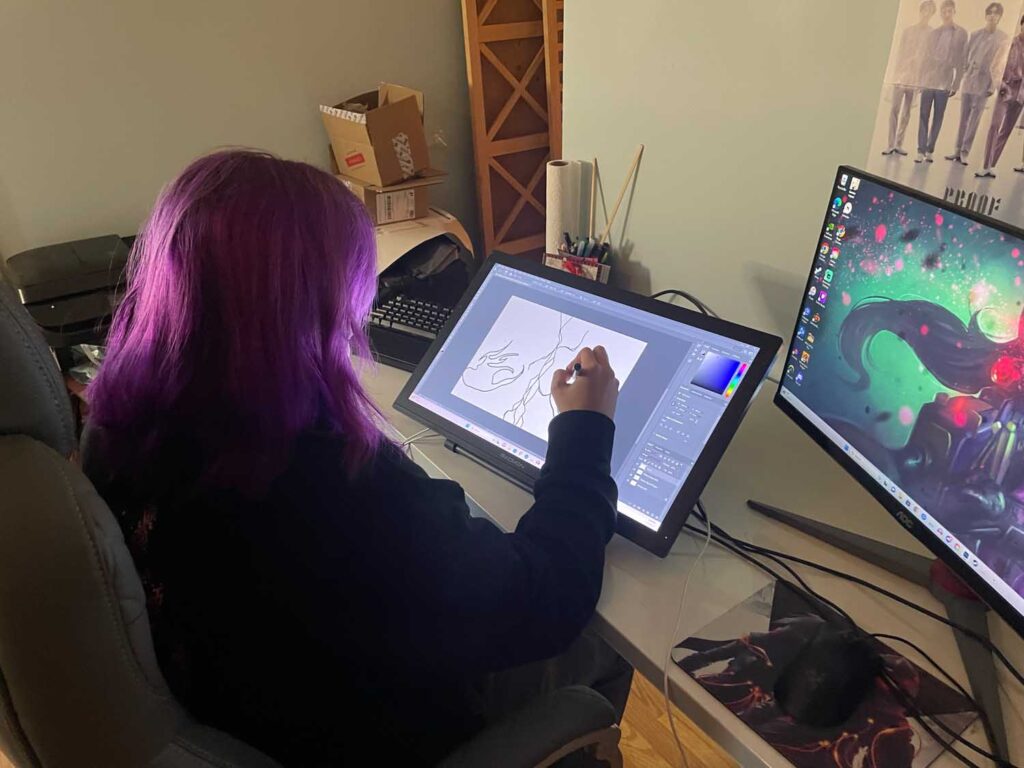 "The normal people are afraid of the Supernaturals, especially the Tempest Supernaturals, who have been a danger to humankind and the world," Seyfer said. "Born with chaotic instincts driven by their powers and their history, their purpose is to bring the world to an end. Rai, the main character, is a Tempest who is fighting her violent instincts in order to save the world."
Seyfer has been drawing "since I was a little kid" and started making digital art in 8th grade.
"I make art because I have a creative mind and I like to draw. I've always drawn mostly people."
Inspired by the Japanese anime style, her first digital drawings were mostly fantasy women.
"I got away from that a bit with giving my characters longer and more narrow eyes, instead of the round eyes of anime characters. I've also moved into semi-realism."
Seyfer is a self-taught artist who used YouTube videos to learn the basics. Her techniques include the use of a stylus, a brush tool, and sometimes a photo. She draws on a Wacom Tablet and the work shows up on the computer screen. A graphic design class at Wheat Ridge High School taught her about using Photoshop for drawing.
"You work in layers, with a photo as one layer and something else, like lightning, on another layer. You can do a gradient effect to see the lightning through the person.
"Backgrounds are layers underneath a figure. You can make a solid color, a design like rain or snow, or airbrushed colors."
The characters in "Break the World" are all high school age except Akira Yamada. Yamada's superpower is shadow, which takes the form of hands that are the spirits of his deceased wife and children. Some of the younger characters are Rai, the Tempest who controls thunder and lightning; Kasai, who controls fire; Chikyu, who controls the element of Earth (she can create tremors and manipulate the shape of the ground as she wants); and Mihiro, who can create and manipulate water.
"None of them are me, but they have parts of my personality," says Seyfer.
Since the Supernaturals are considered dangerous, the government captures them and conducts experiments on them. The core characters form a resistance to defeat the government's efforts.
Seyfer likes to work in dark colors.
"My writing is dark and I use dark colors in my art. All the characters have deep, dark backstories and I provide the characters' stories to give insight into what they are dealing with in their past or in the present. For example, Kasai inherited his fire power from his brother, who was killed in the military. Kasai is sometimes represented as a metaphor, with half of his face being the face of his brother.
"But there's humor throughout to break up the dark seriousness. And everything gets fixed in the end; there's a happy ending."
Kasai and other characters are featured on stickers, posters and t-shirts available on Seyfer's merchandise sale site, redbubble.com/people/venus-23/shop. Kasai is represented in the "Burn" sticker. The site also offers fan art drawings of music artists including violinist Lindsey Stirling and Korean rapper Airport Yoongi, also known as Agust D, as well as an undertaker character from anime. Seyfer hopes to offer her art at exhibition events like Comic-Con.
For more information about Chase Seyfer and her art, see instagram.com/chase_seyfer_army21/ or instagram.com/chase_seyfer_art/?hl=bg (older drawings).