When it comes to art, Melinda Stewart doesn't just create. Not only is she an artist herself, Stewart teaches art to children at her studio and in several Wheat Ridge schools. She has also volunteered her time and expertise toward several community art-related projects. Stewart has taught art for more than two decades. She has degrees in sculpture and psychology from the University of Kansas and was a gallery teacher for the Clyfford Still Museum in Denver for two years. She has also taught part-time for the Arvada Center.
Stewart moved from Kansas to the Berkeley community in northwest Denver in 2008, before she and her fiancé bought a home in Wheat Ridge, where they have lived for eight years. "We kept driving through Wheat Ridge while we were house hunting and kept seeing these pretty, cute houses," she said. "We just fell in love with Wheat Ridge. It's super accessible and there are so many chances to get involved."
Community involvement runs in Stewart's family, with relatives who served as mayors, firefighters, nurses and emergency medical technicians, she stated. Stewart said she started volunteering when a middle school friend invited her to attend church. "I ended up joining her church and finding there was a tremendous availability of volunteering," she added. "That's how I got a taste of how incredibly rewarding it can feel to help and volunteer and realize it's not always about a monetary reward."
Stewart's volunteerism in Wheat Ridge included an "artists for gardens" tour and she was part of a volunteer board that helped establish public art in Wheat Ridge.
Most recently, Stewart was involved in an artspace feasibility study undertaken by the city cultural commission and ArtSpace, a nonprofit organization that calls itself America's leading real estate developer for the arts. The study focused on whether a "live/work" space for city artists and other creatives would be supported. Such projects can include artist housing, studios, arts centers and arts-friendly businesses. "That can be a really wonderful project," Stewart said. "We decided to bring everyone together once a month, anyone who creates something with their hands, and see what they would like to create in Wheat Ridge."
The city and Localworks funded the study. Undertaken before the COVID-19 pandemic, the six- to eight-months-long effort found Wheat Ridge would be "an excellent city for a live/work space," Stewart noted, "but the pandemic shut it down."
The study group visited a live/work space in Loveland to see and learn first-hand how such a facility can become reality. "They told us many small groups of artists got behind their project, and I want to see that happen in Wheat Ridge, too," Stewart said.
Rebranded as Wheat Ridge Creative, the next focus will be to find a suitable location and potentially purchase some property for development. "I think it could result in designating a creative corridor of sorts," Stewart added.
Stewart is also part of the fledgling Art on the Farm project in Wheat Ridge and Arvada. It could include artist talks, painting and other artistic demonstrations, along with picnics and live music for residents and families. Those events would take place on area urban farms, where visitors could learn about that type of agriculture.
Other volunteer activities Stewart had a hand in included the Wheat Ridge Criterium and Brewfest, art activities, summer Movies on the Ridge, RidgeFest, a kite festival for two years, other city-sponsored and Localworks events.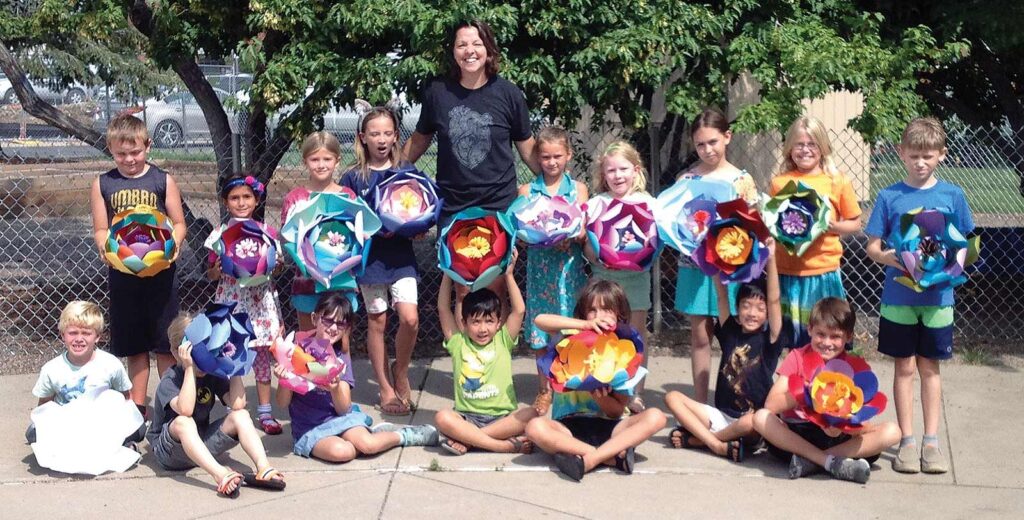 Her art studio, Sweet Ridge Studios, is a play on the city's name, Stewart said. She is also the lead instructor at the studio, which holds summer and no-school art camps, along with after-school enrichment for children between the ages of 6 and 12. Stewart hopes to "cultivate" more Wheat Ridge schools into adding art classes. She has also been thinking about expanding her studio with a nonprofit arm to seek funding sources like federal grants to expand its offerings.
On her studio's website, Stewart wrote, "Making allows us to communicate without language. It also connects and centers us." She expanded on that statement in an interview. "I believe creativity is an inherent birthright of all of us," Stewart said. "I think everyone has some manifestation of creativity, whether you write a play, create music or anything else. It's a necessary affirmation of our own existence. And that reflects back to others and the community."
That philosophy is often seen in her artistic creations, Stewart said. "When I create something, my favorite medium is clay sculptures that take a funny look at human experiences," she stated. Stewart added when people are creative, it encourages others and "helps people live the best version of themselves. And that can lead to what's best for a community and, hopefully, for all."
Editor's note: The Neighborhood Gazette welcomes suggestions for our Behind the Scene feature. Email names, contact information and why you think someone contributes to improving Wheat Ridge's quality of life through volunteer efforts or giving their time, skills and knowledge to editor@ngazette.com.